Home / Shop / Beauty / Illuminating Concentrate Serum 10ml
Re:erth
Illuminating Concentrate Serum 10ml
USD $

92.99
6 in stock
Description
Awards
The category-defining formula for healthy, luminous skin. Get to the root of stubborn discoloration by the use of unique botanical actives. Unveil brighter, clearer, and more luminous skin!
What It Does: A spot lightening serum. Fades existing dark spots, impede new spots from forming, transform dullness, stubborn discolouration and uneven skin tone to healthy luminous skin.
Unveil Healthy, Luminous Skin
Monkey Jack Heartwood extract and Japanese Spring Turmeric extract inhibit melanogenesis and tyrosinase activity, fading dark spots, and promoting a more even complexion, while Cherry Blossom extract increases skin resilience against glycation to promote collagen formation (in fibroblasts).
Plus: Absorbs instantaneously (Lipodisq at work!)
DAY 1
✓ Sun spots
✓ Age spots
✓ Dark spots
✓ Post-inflammatory hyperpigmentation
✓ Uneven skin tone
✓ Dull skin
DAY 30
✓ Fade existing dark spots
✓ Impede/inhibit new ones from forming
✓ Transform dullness to healthy, luminous skin
Who / What It's For:
All Skin Types
Sun Spots
Age Spots
Dark Spots
Post-inflammatory Hyperpigmentation
Uneven Skin Tone
Dull Skin
Product Need-to-know:
Made In Japan
Vegan
Cruelty Free
Non-comedogenic
Oil-Free
No Added Fragrance
Content Volume: 10ml
Expiry: 2 years shelf life, unopened. Once opened, recommended to finish it within 6 months.
Area of Application: Face
Texture: Lightweight & absorbs in 10 seconds
Directions: Use twice daily
Prior to use, hold upright and pump dispenser slowly about 10 to 15 times.
Dispense onto finger and apply as a spot treatment to the desired area.
Twist, Pump, and Pat your way to luminous skin!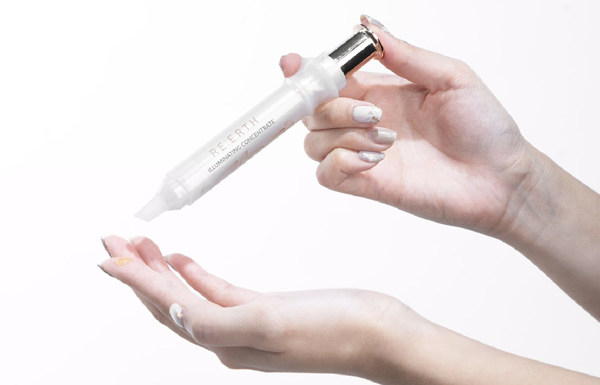 Core Ingredients:
Artonox® (Monkey Jack Heartwood Extract) & Oxyresveratrol

Proven to be 150x stronger than Resveratrol and 32x stronger than Kojic Acid. 3 main effects include strong inhibition of melanogenesis, high tyrosinase inhibition, and broad-spectrum antioxidant. Significantly fades dark spots and promotes a brighter, and more even complexion.

Japanese Spring Turmeric Leaf Extract

This patented ingredient has four distinct components working together to effectively inhibit tyrosinase activity, a melanin precursor, by up to 88%, resulting in visible skin clarity and lightening of dark spots.

Cherry Blossom Flower Extract

A joint study by the Japanese ingredient manufacturer and Kyoto Pharmaceutical University successfully determined that its bioactive components are proven anti-glycation agents, and inhibits the production of AGEs to promote collagen formation in fibroblasts, increasing skin resilience, and transforming dull, uneven skin tone to healthy, more luminous skin.
Technology:
Lipodisq®
A patented, state of the art dermal delivery system, that encapsulates the above actives, transporting them between skin cells more than 10 times in comparison to normal liposomes, bringing actives into the deeper layers of the skin, where it is most effective.
Other Ingredients: Water (Aqua), Polysorbate 20, Pentanediol, Glycerin, Potassium Glycyrrhizate, Hydroxyresveratrol, Cherry Blossom Flower Extract (Prunus lannesiana), Artocarpus Lakoocha Wood Extract, Spring Turmeric Leaf Extract, Phenoxyethanol, Xanthan Gum, Lecithin, Dextrin, Ethylhexylglycerin, EDTA, Ascorbic Acid, Malic Acid.
Aroma: Natural faint floral notes, no added fragrance
Its secret? The brand's exclusive Japanese Spring Turmeric leaf extract, plus Monkey Jack Heartwood extract and Oxyresveratrol. The last, which helps brighten and even skin tone, is said to be 150 times more powerful than resveratrol and 32 times stronger than kojic acid. The active ingredient suppresses the skin activities that cause overproduction of melanin, helping to control hyperpigmentation and dark-spot formation. In addition, cherry blossom flower extract helps stave off the effects of ageing and damage caused by glycation. At the same time, the serum uses a patented, state- of-the-art system to deliver the potent actives deep into the skin, transforming it from dull to luminous. A unique airtight, cylindrical pump in its packaging ensures that you get the perfect dose every time.
HerWorld, Beauty Awards 2021, Best Brightening Serum for Dark Spots (Editor's Choice)
Share your thoughts!
Let us know what you think...
×
Login
If you have already registered with SocietyA, then sign in here.
Please note: If you have only subscribed to the weekly newsletter, you are not a registered user and need to register below.
Register
If you are new to SocietyA, kindly register below.