When it comes to ageing, there are two things I firmly believe in. One: ageing is inevitable but looking your age is an option. And two, prevention is better than cure. With this in mind, I have curated my skincare routines over the years, to nourish, strengthen and support my skin as it ages. And while I don't fight every wrinkle and fine line—which I believe are signs of a life well lived—I will not tolerate dullness, dryness, rough texture and blotchy skin tone which are also signs of skin ageing. To combat all of these as well as ensure optimal skin health, I make sure my routine comprises the following:
Regular Exfoliation
After cleansing, or double cleansing if it's in the evening, I like to slough off dead skin with a gentle exfoliator like the Native Essentials Sole Exfoliant Gel to Milk Mask.
Taking off dead skin makes way for new skin to get to the upper most layer, ensures better absorption of skincare and ensures light bounces off your skin evenly so it looks bright and luminous.
The Native Essentials Sole Exfoliant Gel to Milk Mask has alpha hydroxy acids (AHA) derived from berries and charcoal beads (that melt when massaged, so very gentle) to help polish skin, while nutritious rosehip and olive oils ensure skin is comfortable and doesn't feel stripped making it suitable for those with dry or sensitive skin as well.
Minimising damage
With dead skin out of the way, serums like the CELLOOM Rise and Shine Ampoule are better absorbed. It has vitamins B, C and E—all packed with antioxidants to minimise damage from external factors like pollution and exposure to UV rays, as well as natural internal ageing factors. It also helps unify skin tone, moisturise and give skin that subtle glow. Plus, it's lightweight and easily absorbed which makes it great to use in the heat and humidity.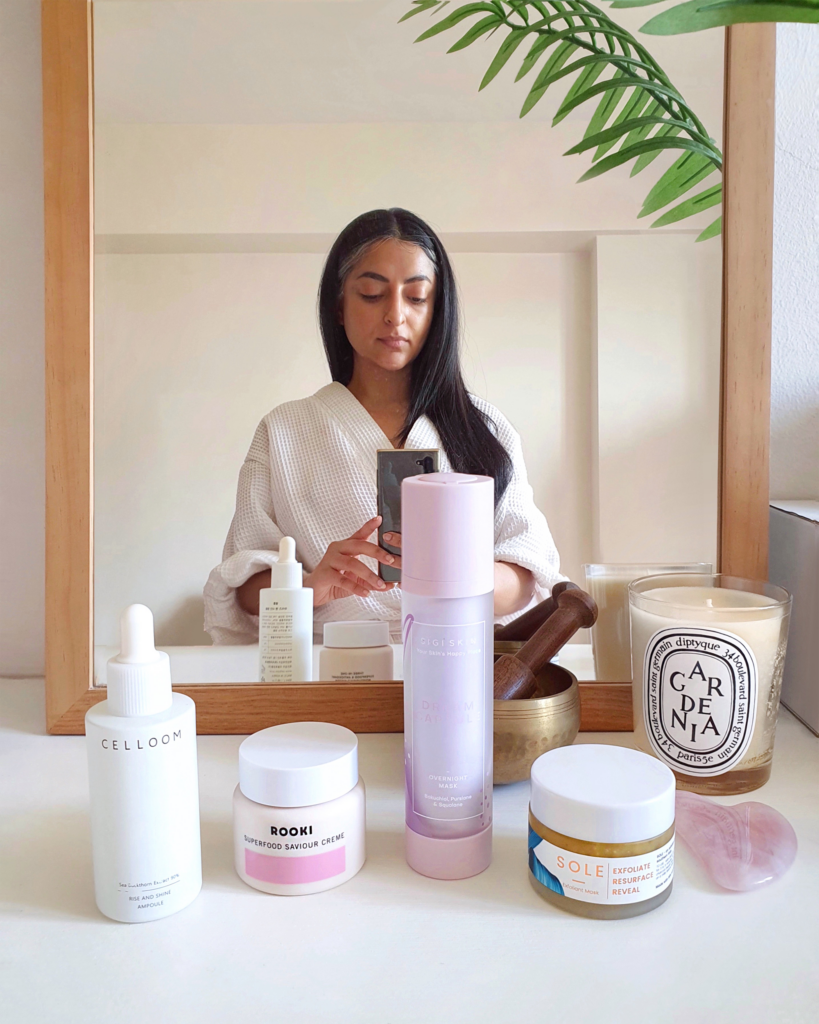 Supporting the skin barrier
As we age the skin barrier gets compromised and this can result in skin becoming sensitive and irritated. This is why it's essential to keep the skin barrier strong and healthy, and one way to do this is to ensure the skin is adequately hydrated. The Rooki Superfood Saviour Cream has ingredients like squalane, hyaluronic acid and CoQ10, which support skin health and keep the skin barrier strong by locking in hydration and also preventing water loss. It also has antioxidants and proteins that help keep skin smooth and firm.
Slowing visible signs of ageing
While I am willing to embrace my wrinkles and fine lines, I would rather they appear later than sooner. That's where bakuchiol, found in the Sigi Skin Dream Capsule Mask comes in handy. The plant-derived ingredient helps soften the look of fine lines, firm skin, even out skin tone, refine texture and soothe skin. Plus, it has antioxidant benefits. Other key ingredients in the leave-on mask include purslane and squalane that together help to reduce inflammation, strengthen skin's repair functions and increase hydration to make this a very well rounded well ageing product. Bonus: Pregnant and lactating women can also use it.
Along with a sound well-ageing skincare routine, I also make sure I eat sensibly, workout regularly, drink a lot of water (of course, this article would not be complete without that tip!) and use my beauty devices regularly.
About
Smita DeSouza is a beauty industry insider with over 10 years of experience in beauty journalism. In her late 30s, she welcomes the wisdom, confidence and resilience that age brings, but not the pigmentation and loss of collagen. Follow her skincare rituals here.