SocietyA Gift Cards make the perfect gift for all of your friends and family! Ordering a SocietyA Gift Card online is very simple and secure. Purchase a SocietyA Gift Card now and we'll send it as soon as your order has been processed and approved.
The SocietyA Gift Card can be purchased online for use for all online purchases. A gift card can be purchased in denominations of SGD$20, SGD$50, SGD$100, SGD$150, and SGD$200. The SocietyA Gift Card can only be redeemed at www.society-a.com.
Purchases will be deducted from the card value until the balance reaches zero. Gift card may not be used to purchase another gift card or e-gift certificate. Gift Cards are Final Sale items and thus cannot be returned for refund or exchange unless required by law. It may not be redeemed for cash and SocietyA is not responsible for lost or stolen cards.
1) Your gift card details
You will receive an email on your purchased gift card details. View your gift card code by clicking "VIEW YOUR E-GIFT CARD HERE".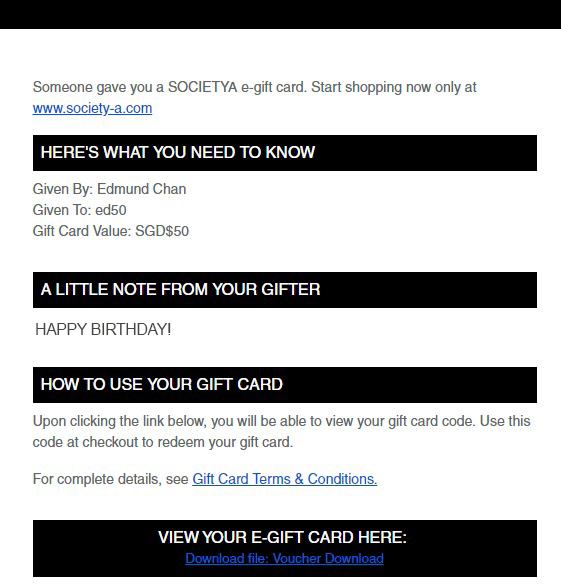 2) Retrieve your gift card code Upon clicking the email link, you will be able to view your gift card code. Use this code at checkout to redeem your gift card.
3) Enter your gift coupon
Gift cards must be redeemed in the Billing & Payment stage of checkout. Enter your gift card code by clicking "Have a coupon? Click here to enter your code". Click "Apply" once you entered the code. *Note: Gift card code cannot be applied to discount code.