Pastels? Florals? Volume? No problem. We show you how you can take on the biggest SS21 trends confidently! 
 With the COVID-19 global pandemic still lingering in our rear-view mirror, this SS21 season was always going to be an interesting one to watch given that it was created and realized amid worldwide lockdowns. Having said that, designers used their creative energy to churn out messages of hope, strength, and love – key themes that feel like a much-needed rally during these uncertain times. 
Those meditations – where optimism and fantasy are the antidote to isolation and confusion – rang throughout some of this season's biggest fashion trends. From the resolute black pieces that are elevated with special details, to the floral patterns that call to mind wistful afternoons in the garden, these fashion trends communicate a wish for a brighter tomorrow. 
With that in mind, we've put together a crash course on the biggest trends for SS21, and how your favourite Asian designers from SocietyA have made them wearable for you.
1. GUIDING LIGHTS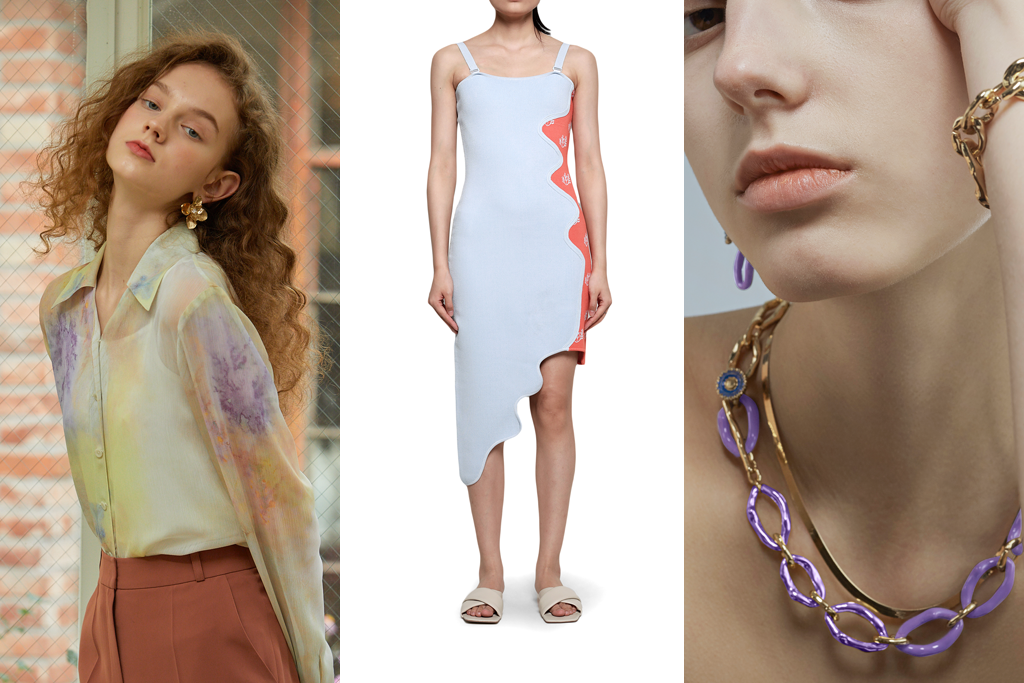 What it is: Perhaps the global turmoil of 2020 left designers pining for a simpler time in our childhood – where joy could be had in a popsicle as we watched the sun set in the horizon – because it seemed that many of our favourite designers sent out pastel creations in all shades and shapes. A good part of LIE's collection saw pastel blues and yellows cut into feminine blouses, dresses and camisoles. Meanwhile, PH5 had a series of sky-blue pieces ready on hand, whilst P by Panache worked hand-painted lilac enamel chain links into their Lotus Door series. 
Style tip: To anchor down your pastels, team it with a darker neutral colour. Terracotta brown, indigo or dark olive colours all help to jeep it grounded. 
Shop this trend: Flowy, Delicate Shirt, from LIE; Ivy Colourblocked Tube Dress, from PH5; Lotus Door Necklace, from P by Panache. 
2. BUDDING BEAUTIES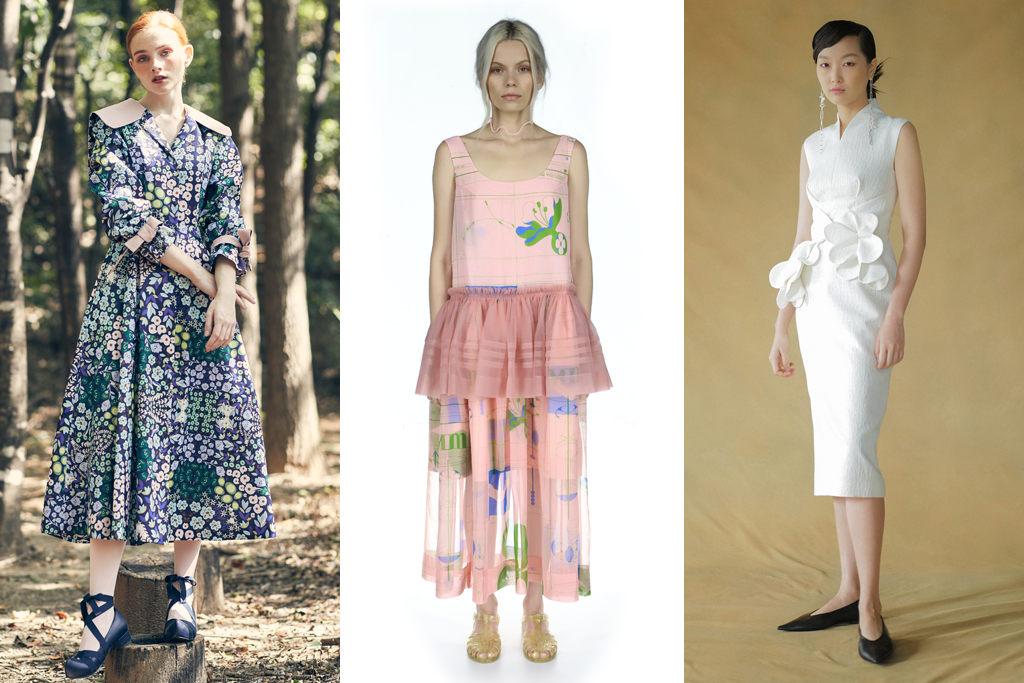 What it is: The relationship between floral patterns during the Spring/Summer season is undeniable and – at times – predictable, which is why we love how designers are finding new ways to reinterpret it. At Tibaeg, Cho Eun Ae used childlike doodles of flowers to invigorate her garden with joyful, buzzy colours. Over at MINJUKIM, the Next in Fashion winner looked at science-inspired diagrams of flowers to capture her inspiration of capturing spring in a test tube. Last but not least, Peggy Hartanto took the less expected route when she eschewed the usual floral pattern in favour of scalloped edges gathered together to resemble flower petals. 
Style tip: When working with multiple floral patterns, find a similar base tone to tie the look together. 
Shop this trend: Reso Dress, from Tibaeg; Three Layer Skirt Dress, from MINJUKIM; Iemoto Dress, from Peggy Hartanto. 
3.THE SHORT STORY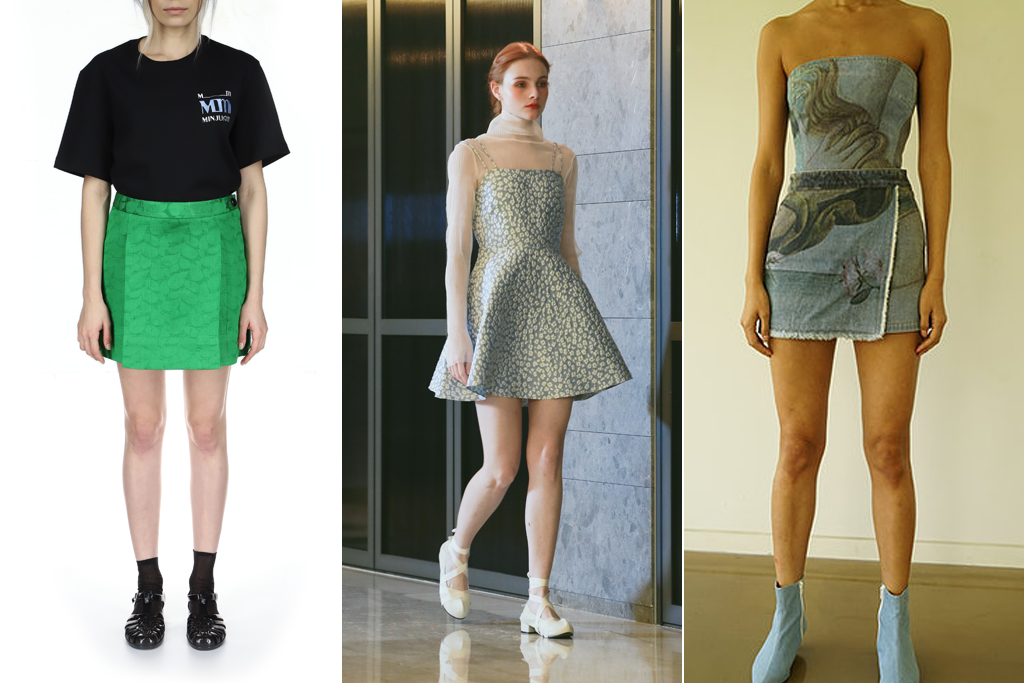 What it is: As we begin to readjust to the idea of going out – whether it's to the beach, on a cruise to nowhere or just for a meal with friends – we're glad that designers are bringing back shorter hemlines. After all, with the weather getting hotter by the day, there's no better way to flaunt your tony gams and keep your cool than in these hiked-up hemlines. MINJUKIM's bright emerald green mini skirt promises to dress up even your most casual t-shirts, whilst Tibaeg's jacquard floral mini dress makes for a playful number to wear after dark. At KIMHEKIM, a Botticelli painting takes the stage on what looks like a mini skirt from the front but is actually a pair of shorts with an apron flap on the front. 
Style tip: Use the shorter hemline to your advantage when you play with layering – think long jackets over short skirts, or oversized shirts with fitted shorts! 
Shop this trend: Mini Skirt, from MINJUKIM; Egg Dress, from Tibaeg; Agnes Shorts, from KIMHEKIM. 
4.DARK MATTER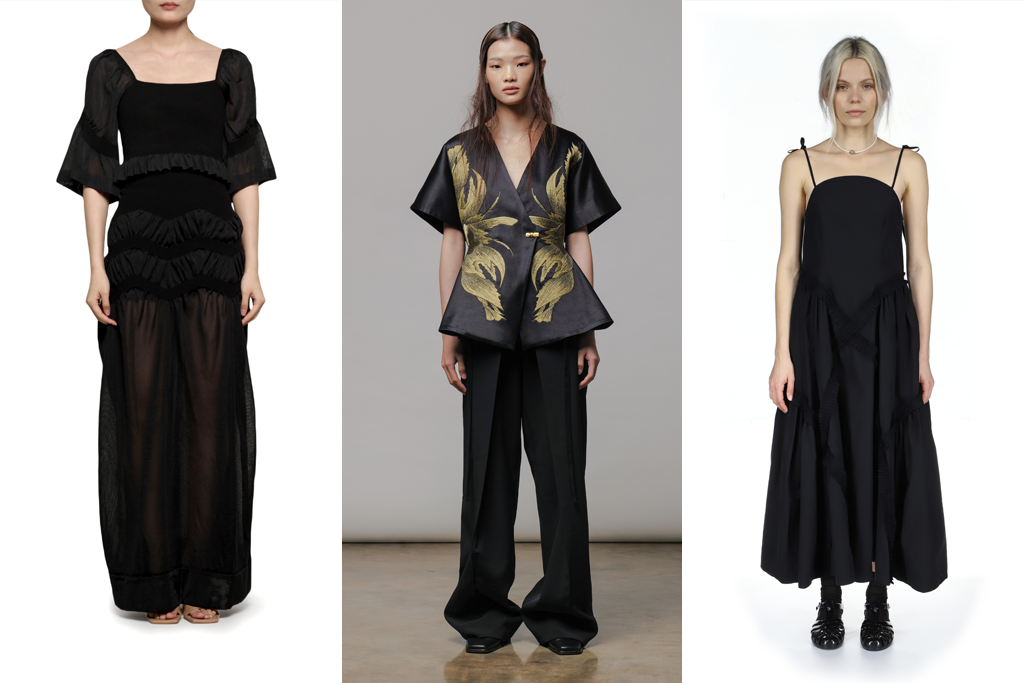 What it is: No boring black pieces here, we promise. Designers continue to reinvent the colour by mixing it with eye-catching details or tactile surfaces that feel anything but basic. PH5's Zoe Champion made a beautifully knitted organza skirt and completed it with bands of ruched fabric, whereas MINJUKIM sought to elevate a black midi dress with overlapping gathers. But it was Indonesian duo Sean Sheila who really worked black in a variety of fascinating forms – including this signature black kimono embroidered with swimming koi fishes. 
Style tip: If you are going for a head-to-toe black look, try mixing different texture together for added visual depth. 
Shop this trend: Aurora Organza Long Skirt, from PH5; SS21 Signature Black Kimono, from Sean Sheila; Shirring Round Dress, from MINJUKIM. 
5.POWER PUFF GIRLS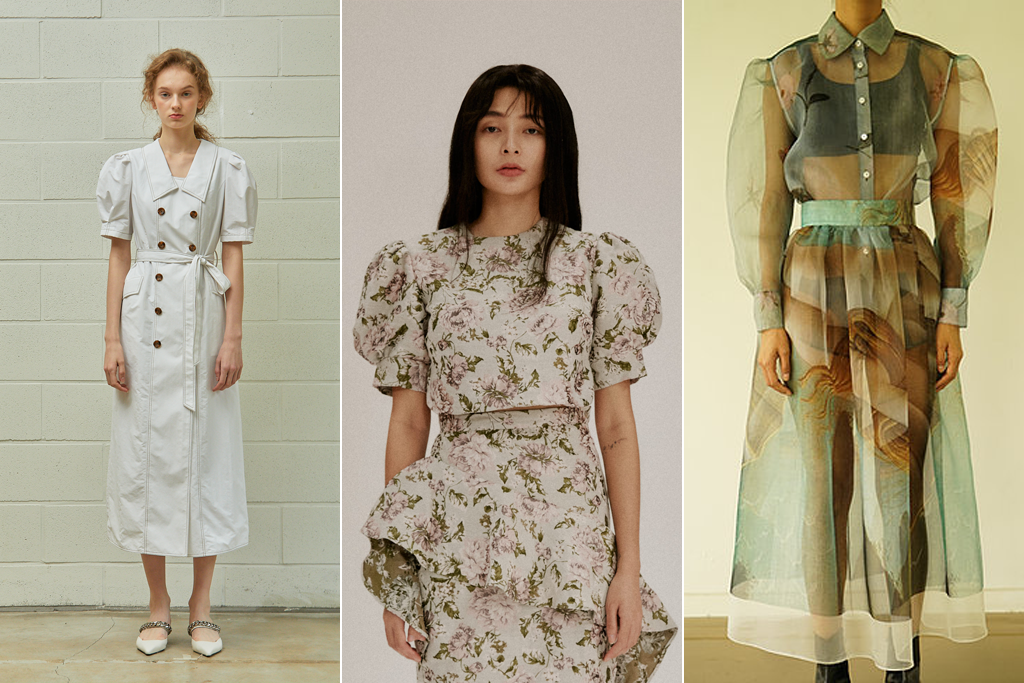 What it is: Following the season's overarching return of feminine forms and colours, puffy sleeves make their big comeback this season in several of our Asian designers' collections. LIE's pristine white dress features a slightly puffed sleeve silhouette, whereas Jonathan Liang's brocade stunner goes for a more exaggerated puff. Finally, KIMHEKIM's sheer shirt rounds it off with airy organza sleeves. 
Style tip: If you're rocking a voluminous sleeve on top, keep your bottom half fitted for visual balance. 
Shop this trend: Maxi Waist-Tie Double Breasted Dress, from LIE; Brocade Puffy Sleeve Top in Green, from Jonathan Liang; Agnes Organza Shirt, from KIMHEKIM. 
We want to welcome you to experience our SS21 collections through a personalized session with our SocietyA Advisors, where you can experience the stories behind the designs, get useful fashion tips and be clued in on the newest styles. To book a styling appointment, please call +65 6331 4848, email concierge@society-a.com or WhatsApp us at +65 9655 5161.