The last feature of "In Style with SocietyA" is none other than Anna Haotanto. She is the COO of ABZD Captial, CMO of Gourmet Food Holdings and the founder and current Advisor of The New Savvy. When we last spoke to Anna, she was sharing her inspiring work on female empowerment through financial literacy and nothing has changed. She is still as passionate about her work at The New Savvy as she was when she founded it seven years ago. "I believe that education is a great equalizer for most people, especially in Singapore," said Anna.
With all her success and achievements, Anna's fun and sincere personality still shines through and that is something Lay Peng wants to highlight. She wants to balance the fun and serious side of Anna and change your impression of how an on-the-go business look could be. The Georgina Jacket and Pants from Magali Pascal is the perfect answer to it. The shade of pink added a touch of femininity to the safari-inspired co-ord that features a very sleek look to it. Both these pieces are also very versatile, which is great for Anna who is always on-the-go.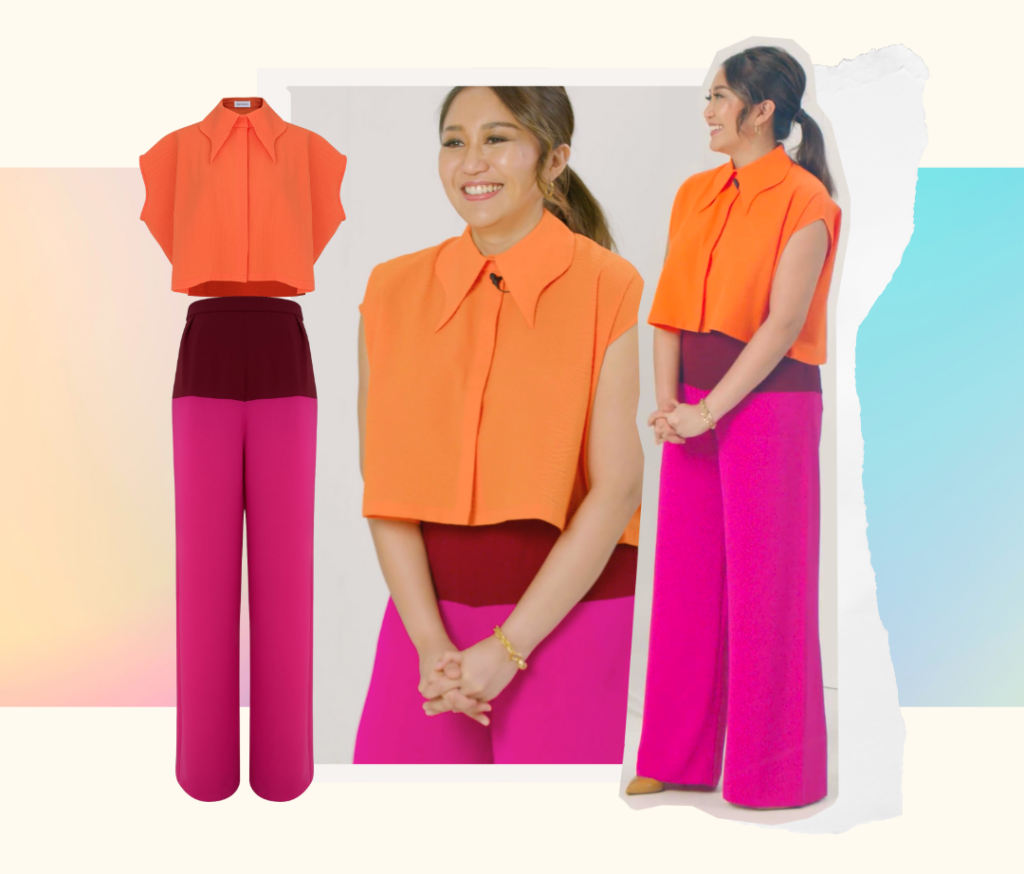 The second look chosen for Anna is the vibrant and bold Grum Top and Gimble Pants from Peggy Hartanto. If you followed SocietyA Spring/Summer 2022, you would know vibrancy is the theme of the season. As Lay Peng shared, it is all about vitality and adventure which is such a great reflection of embracing new changes and growth in the midst of the pandemic. We all had our share of challenges during this difficult period and as business owners, the stakes are higher. "(My partners and I) really sat down to think of all the ways to go through that. And I think one of our most critical concerns were to keep everybody on the payroll, so we don't have to let go of anyone." said Anna.  
This effortless look was chosen to match the charisma and confidence of Kewei. "I feel like Thankfully, they managed to tide through the difficult times – you could see why Anna chose the phoenix as her spirit animal. The good things are worth fighting for, through passion and resilience. This isn't the story you would expect from a bright and vibrant look but that is what Lay Peng meant when she talks about connecting through fashion. As we come to the end of this campaign, we hope you resonate with our message of embracing changes and celebrating your individuality.
——
At the end of the session, we spoke with the ladies to share more about their views on female empowerment and the importance of presenting a positive image in their work. Read on to find Anna's answers. 
How important is it for you to present a positive image/style in your line of work?
It is very important. Dressing up appropriately sets an example as a leader. We have to show and carry ourselves well, as a reflection of our brands. In addition, it will motivate our staff to also present their best selves. We also should dress according to the situation. For me, I focus on anything that feels good, and comfortable and takes me to the different restaurant outlets Gourmet Food Holdings manage. A black shift dress and a blazer when I need to look more professional.  
"Female Empowerment" – what does that mean to you?
To me, "female empowerment" is active in managing their finances. We believe that all women, regardless of occupation, income levels, lifestyle, life stages should learn to empower themselves financially.  
Women are earning more money, saving more but not investing and managing their money. Most women are savers or leave it to their spouses to manage the money.
Women need to make sure that they take care of themselves and be protected against unfortunate circumstances. What happens in the event of death? Or divorce? Or disability? For women, we are not competitive regarding returns. We are not competing for the most returns or to make the most money but to be equipped to make more informed decisions. In terms of investing, we want to protect ourselves, insure ourselves against unfortunate incidents, protect and provide for our loved ones – parents, children, family. And to make sure we have enough funds for retirement, divorce or death.
Also, being on top of their finances will help women to have more control of their lives. It will also boost their self-esteem and confidence.