"In Style with SocietyA" – our Spring/Summer 2022 campaign aims to explore female empowerment through fashion and how fashion could inspire human connections.
Our founder, Lay Peng believes fashion is the tool to bring people together. With the right wardrobe, you would carry yourself better and strike up the right conversation with the people you meet. When we meet someone new, we get caught up with "what they do" and their line of work. How about "who they are"? This is what we want to explore through this campaign. We want to use fashion as a tool to bring people together and make new connections on a personal level.
We are incredibly lucky to be joined by these three ladies and have them lend their voice and explore their style with us. In the next few articles, we will be sharing more on the looks that Lay Peng has chosen for them, their style and views on female empowerment.
Meet Devi Sahny, the founder and CEO of Singapore-based tutoring startup Ascend Now. Ascend Now creates personalized curriculums based on students' preferences, as opposed to the traditional top-down approach. She was featured in Forbes 30 under 30 just last year for her achievement in Consumer Technology.
Lay Peng wants to highlight what a powerhouse she is and translate her personality into these looks. Devi describes herself as driven, sincere and funny. Well, Lay Peng was the one who pointed Devi's sense of humor out! Lay Peng went on to share about how charming Devi is and how she would like to bring across through fashion.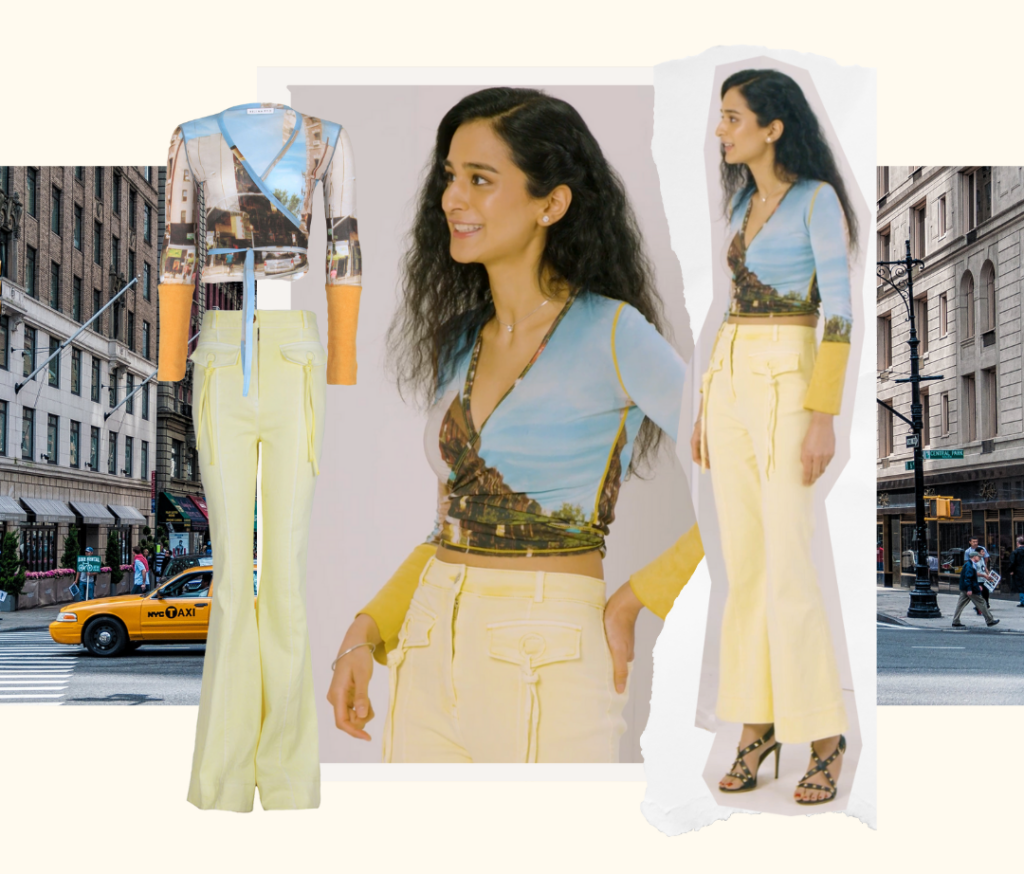 The first look features the Lila Top and Sonya Trousers from Reijina Pyo. The prints on Lila Top are taken from the photographs of the designer's personal travels in New York City. You may not know this but Devi was formerly working as an investment banker at Goldman Sachs in New York. Lay Peng wants to highlight this connection and add a layer into this vibrant and dynamic look.
The second look for Devi is the Emi Dress from Reijina Pyo as well and finished off with a Mother-of-Pearl Layered Necklace from P by Panache for an elegant touch to the whole look. Lay Peng has chosen very bold colours and interesting silhouettes because she wants to step away from Devi's usual
style of solid colours and plain looks. She knows how much work and passion goes into running a startup and how serious the job gets. Therefore, she wants to strike a balance between serious and fun to bring out the vibrancy of Devi.
Devi joked that she needs a Lay Peng in her life to help her with all her styling woes. She went on to share how interesting this experience has been for her, "when there is someone to choose your clothes for you, it can really evolve your wardrobe and style". She encourages us to step out of our comfort zone and experiment with new styles. "I am so happy I am not wearing white or cream" joked Devi.
—–
At the end of the session, we spoke with the ladies to share more about their views on female empowerment and the importance of presenting a positive image in their work. Read on to find Devi's answers.
How important is it for you to present a positive image/style in your line of work?
It's so important as positivity is contagious. I like to be positive and share that positivity with everyone around me – whether they are colleagues, students, friends, family. Positivity is kind of like a boomerang – the more we share it with others, the more it springs back to us.
"Female Empowerment" – what does that mean to you?
The ability to choose, without explication. Never taking no for an answer. A mindset of fearlessness, strength and empathy. Women that do not just write their own chapter, but write the entire book.