Before we get started – congratulations are in order for Kewei who just welcomed her third baby boy last week! When we met her in May, she was still sharing about how she hadn't done her bump shot. We are glad to have documented this beautiful moment of her through "In Style with SocietyA".  
We are glad to be joined by Kewei Tay – notable singer-songwriter in the local music scene and a longtime collaborator of SocietyA. She released her music video for her single "Not Alone" – composed and inspired by the pandemic, back in February. She had also recently completed her joint concert "RE:BIRTH" with her husband, Alfred Sim when she was 6 months pregnant. Our founder, Lay Peng was there at the concert, and she described the energy as nothing short of "amazing". All these impressive feats fully explain Lay Peng's impression of her friend: a go-getter that makes things happen.
Lay Peng wants to highlight Kewei's personality and celebrate her curve and pregnancy through these dynamic and colourful statement pieces. The first look she picked out for Kewei is the striking pink Jodie Eco Pleated Long Dress with Wavy Side Slit from PH5. Lay Peng wants to accentuate and show off her curves because she believes we should celebrate and embrace women for who they are at the different stages of their life. Kewei couldn't agree more, she added that the details of the dress also helped bring an edge to her whole look. A fan of bold colours – this look hits all the right note with Kewei.
The second look for Kewei is the blue and white striped Curiouser Dress from Peggy Hartanto. The flouncy silhouette adds a playful touch to an otherwise feminine look. The ruching and scallop detailing of this dress is also a testament to the workmanship of Peggy Hartanto.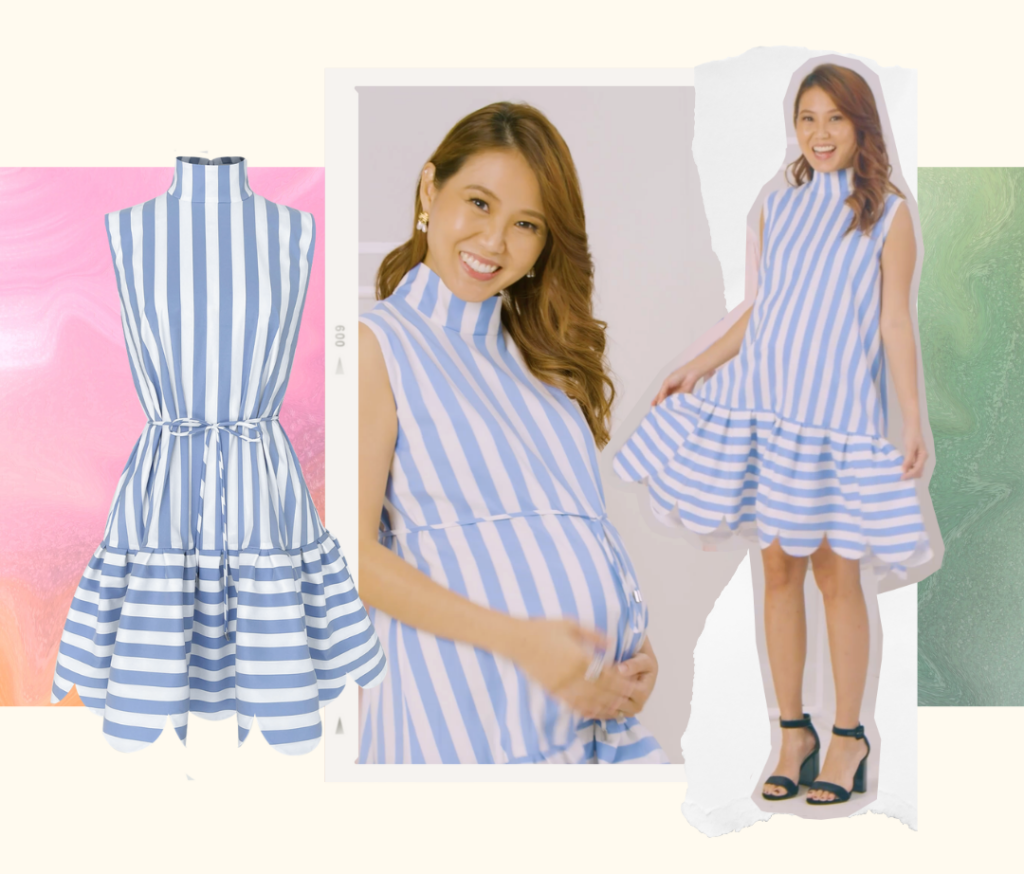 This effortless look was chosen to match the charisma and confidence of Kewei. "I feel like what is so unique to you is how charismatic you are. When you sing, it's not just a voice. It's like you are connected to the listeners, heart to heart" said Lay Peng.
The chemistry between Kewei and Lay Peng is simply magic. "You know my taste. (Especially since) I have been working with SocietyA for so long and you have been dressing me for so many shows and events" said Kewei. They admire each other for how genuine they both are and how they both value connection, one through music and the other through fashion. And we hope you felt the same.
—–
At the end of the session, we spoke with the ladies to share more about their views on female empowerment and the importance of presenting a positive image in their work. Read on to find Kewei's answers.
How important is it for you to present a positive image/style in your line of work?
It's not just about image, it's also about inspiring others as well. In the role that I play, I am juggling my career and motherhood. I want to keep that real and relatable because not everything is a bed of roses. I constantly seek advice within my community and share my issues as a working mum.
"Female Empowerment" – what does that mean to you?
That meant women should be free to do what they want without judgement from society. It's easier said than done – the pressure comes from within, and you would be affected by it subconsciously.