Rawbought's founders – sisters Boutaina, Amira and Soukaina Faruq – get real on what drives their best-selling sleepwear brand.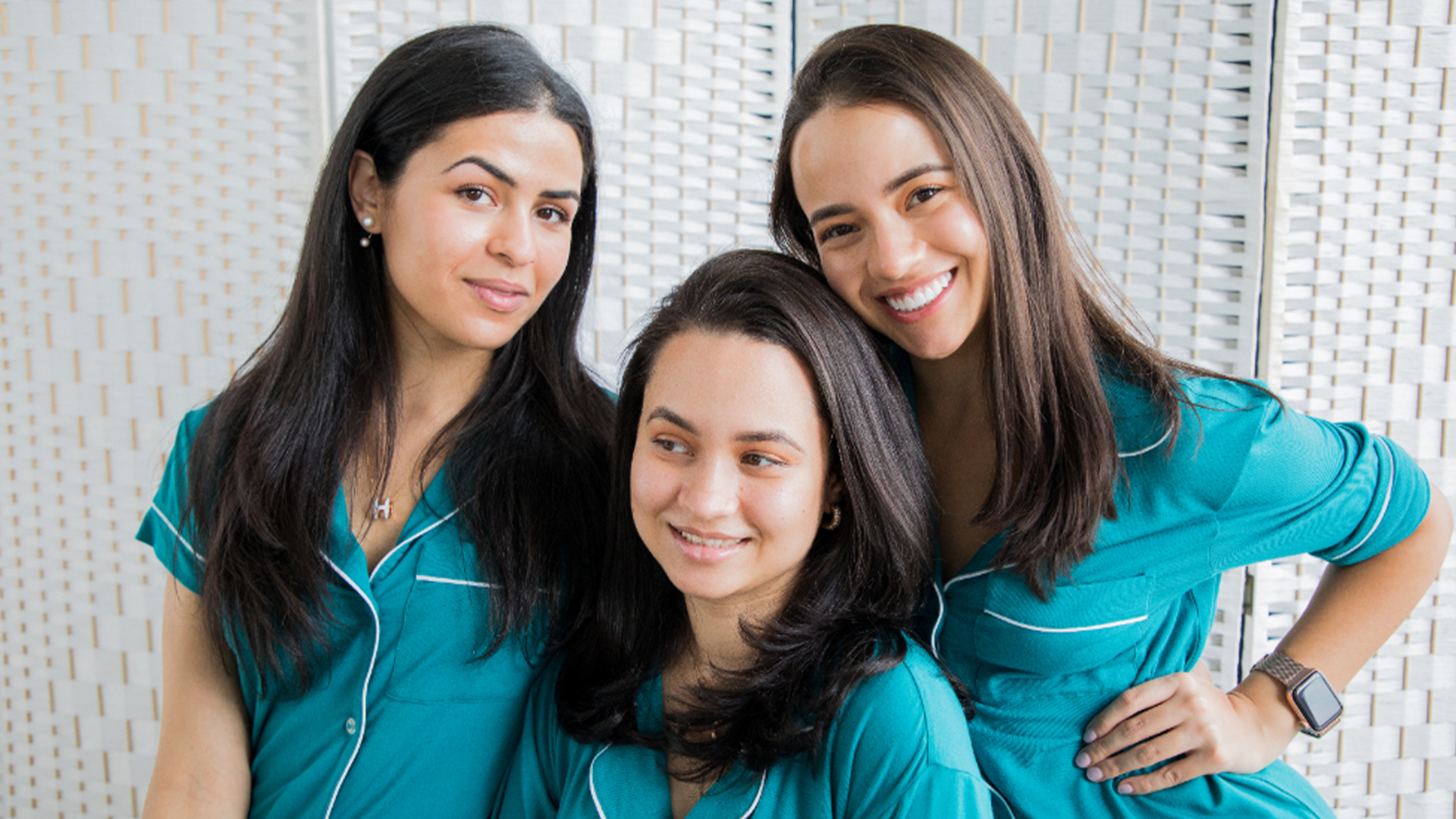 (L to R) Sisters and founders of Rawbought Soukaina, Boutaina, and Amira Faruq.
Whoever said comfort and feeling great do not go together has never met the Faruq sisters. As the trio behind local loungewear brand Rawbought, Boutaina, Amira and Soukaina are leading one of Singapore's best-selling sleepwear brands. Through a line of thoughtfully designed sleep sets, the Faruq sisters have one aim: to help Singaporeans sleep better and wake up feeling great.
To learn more about their brand and what motivates them, we catch up with them for a chat.
What does the brand name "Rawbought" mean?
"Rawbought" in its name is our history. It's the story of where we started, and where we've come now. "Raw" begins from the very first stitch of the garment. We are our own manufacturers – a business that we've been in for over 25 years. It's where our entire journey in the industry began and it's what we know best. It's this background that makes us so unique in the market.
"Bought" refers to our natural next progression. With years of experience and expertise under our belt, we truly believe that we have something special to bring to the market. We've crafted the perfect pair of PJs that we want to share.
Can you take us back to the start of the brand, and share how Rawbought was started, as well as the mission behind the brand?
2020 was a very difficult year for most people around the world, with our lives being disrupted and changed pretty much overnight.
We personally saw ourselves spending a lot of time living and working from home, and we are sure that for many others home started to lose its comforting qualities and became a mundane or even stressful place at times.
We strongly believe that our homes should be a place where we find comfort, peace and solitude. That's where our journey to creating the best sleepwear began. We wanted to create pajamas that reminded people of how soothing it can be to curl up on the couch or in bed and take time for yourself. We also wanted to make sure that the women wearing our PJs feel beautiful and confident while doing so.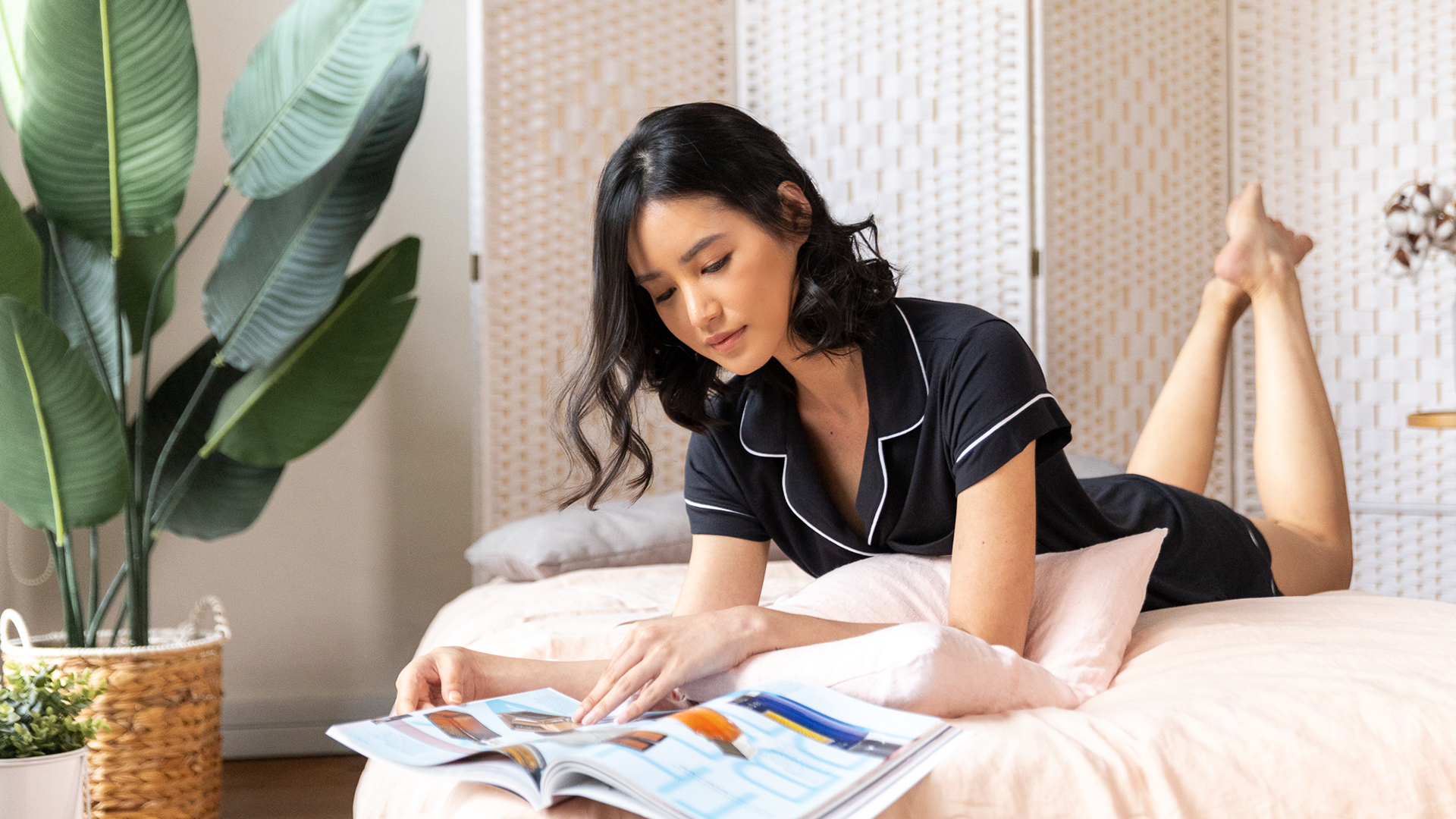 Who is the Rawbought woman?
The Rawbought woman is one who prioritises her comfort in her daily life. She understands the importance of quality – from the food she eats, the clothes she wears and the sleep she gets – because she only wants the best for herself.
From the super-busy mum of three who needs versatility to go from mum to entrepreneur in a heartbeat, the style-conscious millennial who loves to look and feel good at all times, to the laid-back digital native who lives and breathes comfort – we each recognise ourselves in the Rawbought woman.
Why is having good and comfortable sleepwear important?
As adults, we frequently downplay and underestimate the importance of good quality, adequate rest we need, to not just function, but thrive in our daily lives.
The quality of our sleep affects both our physical and mental health in many direct and indirect ways, and it is in turn affected by many factors – an important one being the clothes we wear to bed.
Wearing clothes specifically designed for comfortable sleep (and not your 10-year-old camp t-shirt from school) can help your mind make the association between your pajamas and bedtime, thereby allowing your body to start winding down and preparing for sleep.
Your sensitivity to temperatures also changes when you're asleep, with your environment and clothing being the largest trigger for that. Good quality sleepwear that is specifically designed for you in your sleeping hours take into consideration what your body experiences through the night. Usually made from soft, breathable fabric without obtrusive elements, our pyjamas help regulate your body temperature to help you stay asleep throughout the night.
Comfortable and stylish sleepwear should also help to put you in a good mood before you head to bed. This also helps you get a good night's sleep, leaving your feeling fresh and well-rested the next morning.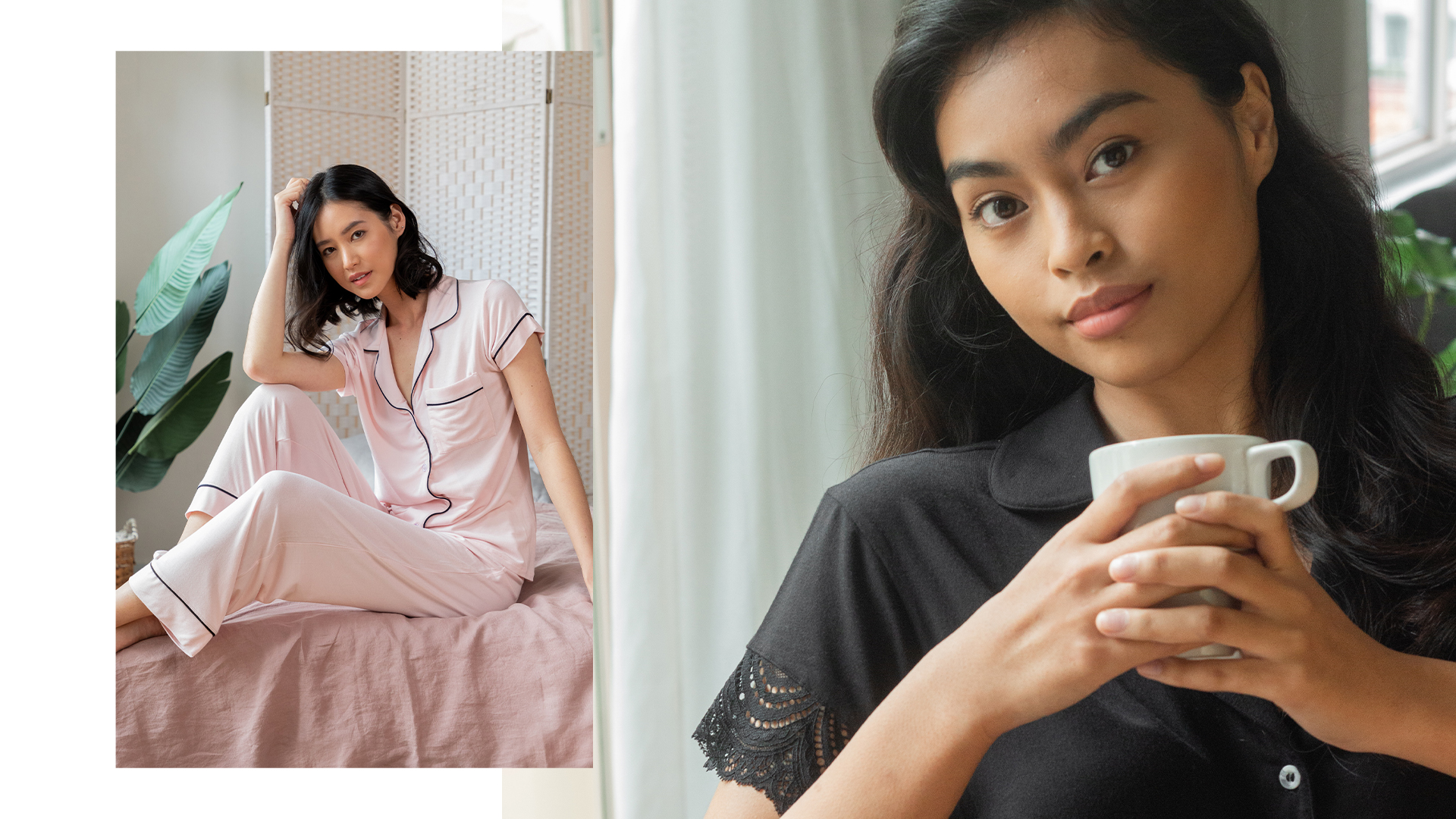 (L to R): Je Dors Long Set in Light Pink; Carezza Long Set Lace Pajamas in Black
On your website, you mention that part your commitment to ethical practices is that you're also owners of the entire production chain. Can you share more on that, and why this is something that is important to your team?
At its core, Rawbought aims to empower every woman to reclaim her comfort.
Having been in the apparel industry for over 25 years, we are very conscious of the environmental and socio-economic impact it has on the world. Owning the entire production chain allows us to hold ourselves to much higher global standards and enables us to work only with trusted suppliers and partners that share our values.
Fair wage and safe, ethical working conditions are the bare minimum expected of any employer; we go much beyond that actively invest time, effort, and resources into empowering all our employees to reach their fullest potential.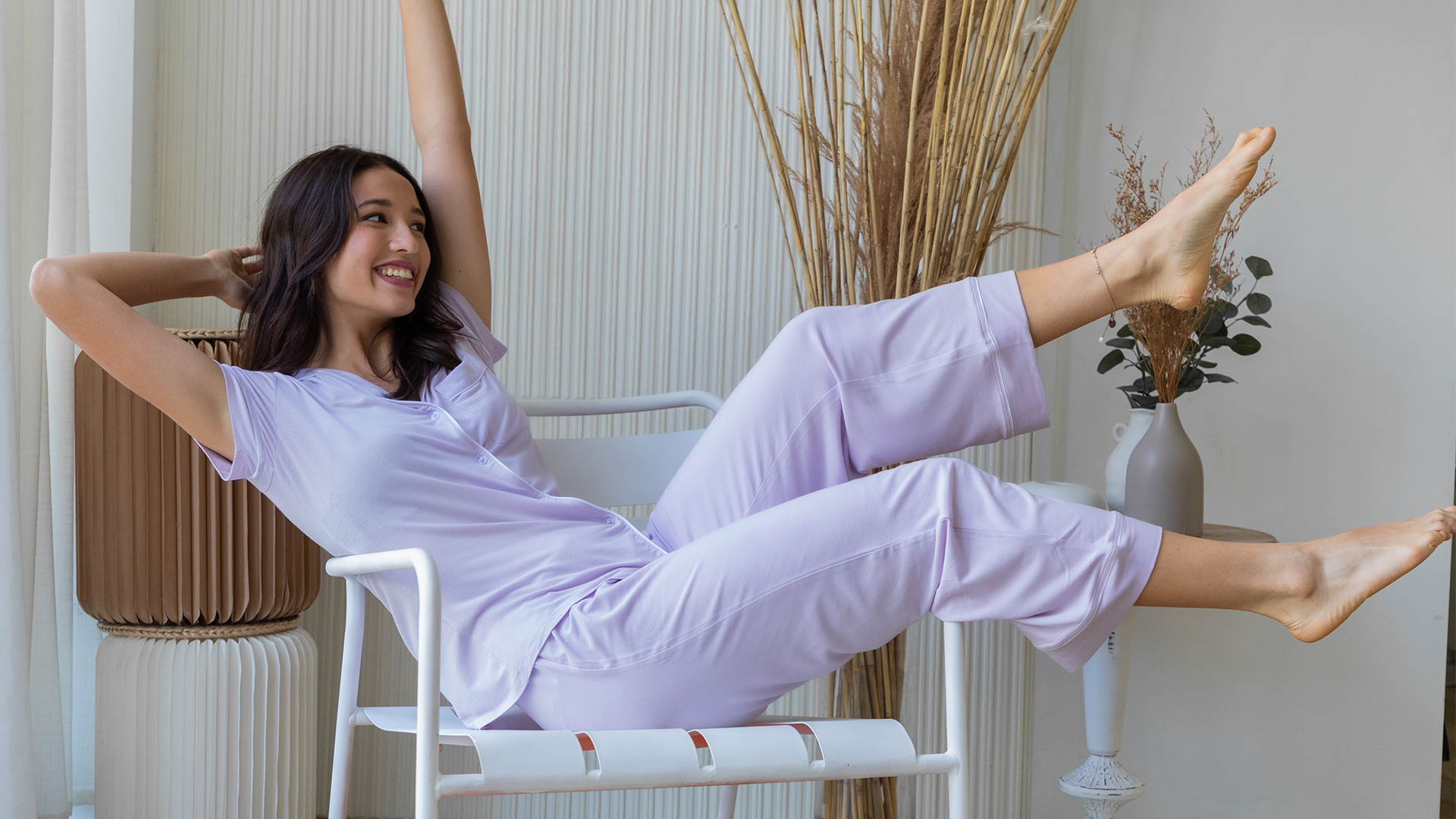 Another thing we love about Rawbought is that in your visual materials, you include women of every size and colour. Why is this something important for you to continually do?
Every woman has the right to comfort – that's our true north here at Rawbought. As a brand founded by women for women, empowerment through inclusivity is at the core of everything that we set out to do.
Women have always led rich lives that transcend their age, size, or race, though very few have been represented where fashion meets culture. Today, the world is finally opening up and learning to reflect the infinite facets of beauty and limitless potential of the everyday woman – who is truly extraordinary being that deserves to be celebrated.
We believe that every woman deserves to see herself reflected in the brands that she so enjoys. At Rawbought, we're proud to be playing our part in empowering our fellow women to take charge of their lives and reclaim their comfort.
Are there any future plans for Rawbought that you can share with us?
The three of us are so passionate about Rawbought, that we spend a lot of our time dreaming of where and what we want it to be. We have a lot of plans, one of them includes slowly expanding our business outside of Singapore, creating sleepwear for men and even possibly a physical storefront.
That being said, we want to maintain the values that are at the core of our brand. We want to continue to listen and create for our customers. We want to empower women to feel their best. And we want to continue our efforts to provide our customers ethically produced products while offering sustainable alternatives where we can.
We're very excited about what we've got coming, so please follow us on Instagram and Facebook for any updates!
Shop Rawbought at Society-A.com by clicking here; or view our full range of Homeware products by clicking here. Enjoy free local shipping on all local orders, with no minimum spend!