Since its first introduction in the days of Coco Chanel, the Little Black Dress has always had a steadfast place in our wardrobes. It remains synonymous with the idea that the wearer of the LBD is a woman who appreciates timeless elegance and understands the importance of dressing well.
With the year zooming by and the holiday season soon rounding the corner, there's no better time than now to get a head start on finding that perfect LBD. Not only were these pieces chosen for their figure-flattering cuts and their ability to keep you looking your best despite the usual pre-holidays prep, they're also entirely versatile and promise you'll get plenty of style mileage out of them in the long run.
1. Corset Classic Dress by MINJUKIM

Flattering for:
Boyish figures
Why:
The easiest way to add curves to a boyish figure is to find designs that incorporate a cinched waist and a fuller skirt – two things that are incorporated in this dramatic black dress. Shown here with a black blouse worn underneath, you can also opt to wear the dress on its own, or layer with a black sleeveless polo knit for another interesting take on layering.
2. Pleated Dress with Cut-Out Detail in Black by Sean Sheila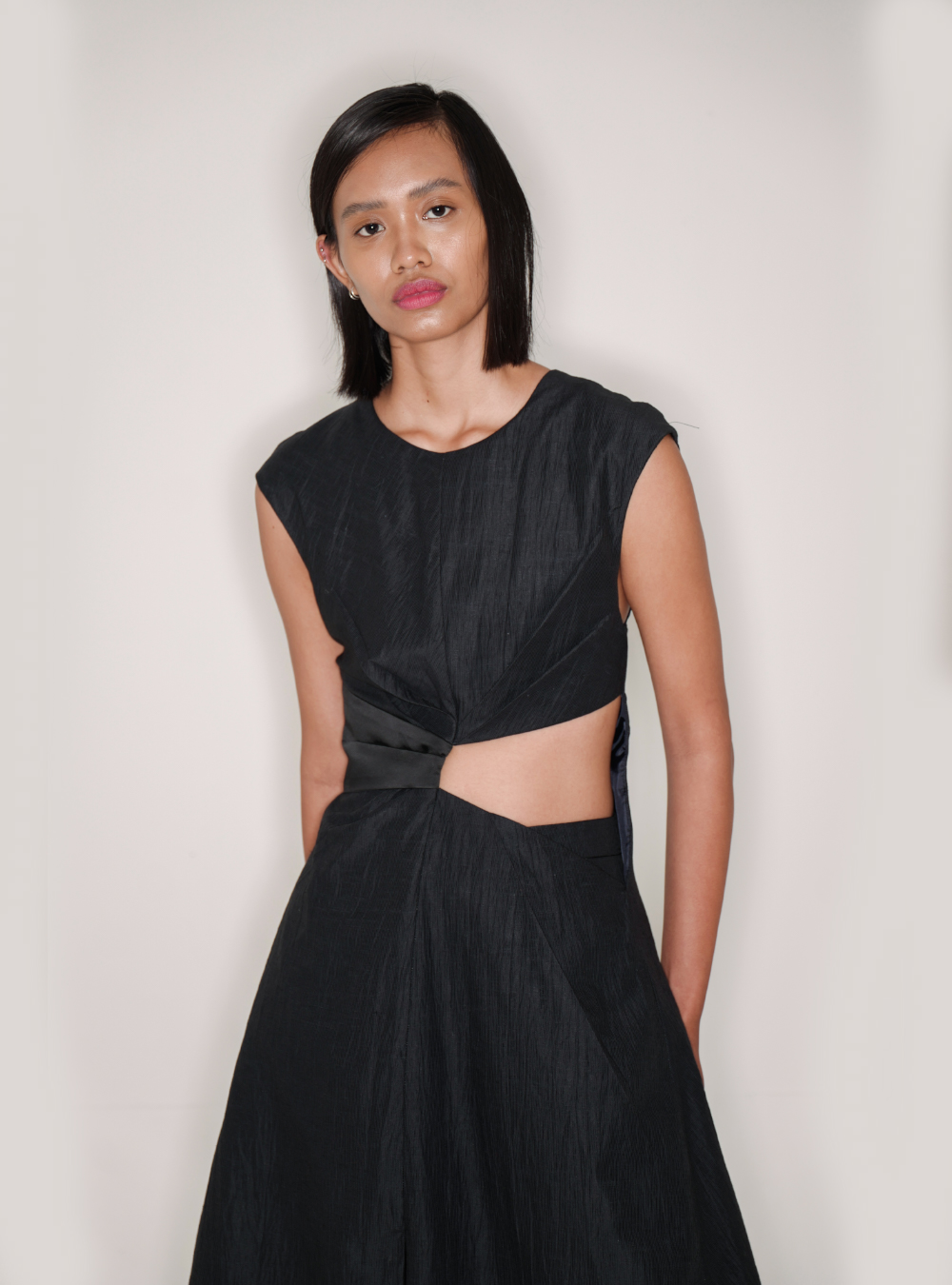 Flattering for:
Inverted triangle figures
Why:
Inverted triangle body types are characterised as having broader shoulders and more narrow hips, so in striving for visual balance, you'd ideally want something fitted on the top half, whilst keeping it flared out at the bottom. This simple cut-out dress does just that, and lets you show off your hard-earned abs that you've earned from all those home-based workouts.
3. Jacquard Dress by Tibaeg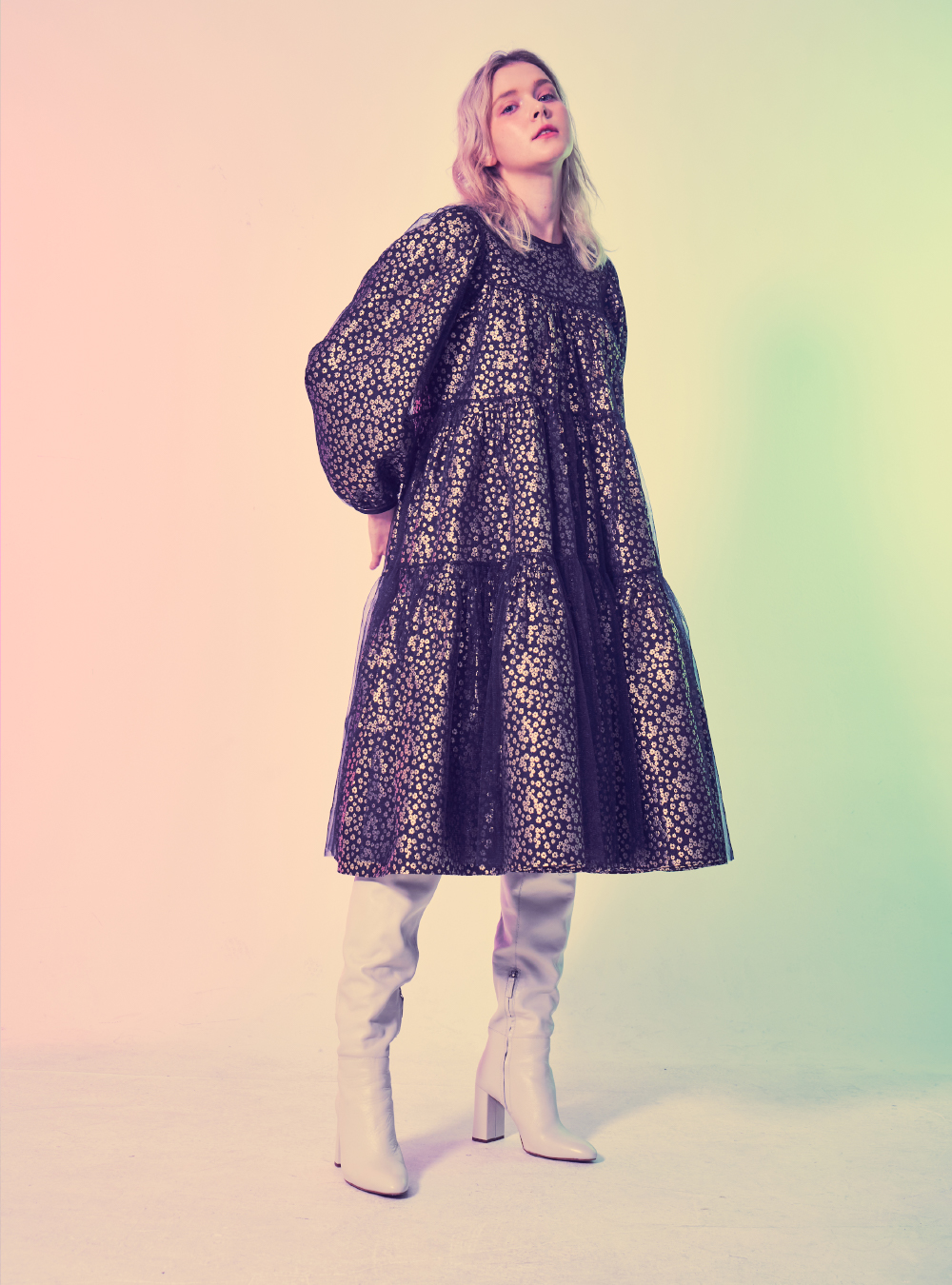 Flattering for:
Round or busty figures
Why:
With the graduated tiers made out of a structured jacquard fabric, this dress is the easiest way to glam up if you have a rounder or bustier frame. Not only does it offer a youthful, girlish take on a cocktail dress, the dress offers just the right amount of flare so the fabric doesn't feel constricting, nor does it drown your frame.
Flattering for:
Taller figures
Why: You've got the gift of height, so why not use that to your advantage, with a floor-skimming dress from Peggy Hartono. At the centre of the design, this is essentially a black shift dress. But given Hartono's love for dramatics and colour, she elevates it further with the addition of a lively swish of yellow that drapes down the right side of the dress. It's a simple look, but no less impactful.
5. Darby Evening Dress by Sans Faff

Flattering for:
Hourglass figures
Why:
Sometimes, the simplest designs can be the sexiest, because it places the focus squarely on the wearer and her movements and personality. Cut from supple bamboo-derived viscose, this super-soft and super-comfortable long dress is a winner, because it flaunts your figure without the need for added distractions.
6. Tailored Suit Dress by Sean Sheila

Flattering for:
Triangle-shaped figures, or women with rounded shoulders
Why:
Essentially, this is an elongated vest that doubles up as a dress when worn sans pants. The tailored shoulders and the peak lapels all work to place emphasis on the shoulders, and it does so by adding structure to the top half of the dress. What this accomplishes for you is that it balances out wider hips, or helps rounded shoulders appear less curved.
7. Southeast Dress by D.Tale

Flattering for:
Boyish or petite figures
Why:
With padded pockets at the chest and around the hip, the silhouette of this dress tricks the eye into seeing fuller curves on the body. Plus, a strapless neckline gives you plenty of room to show off your jewellery, so accessorise with statement earrings or a bejewelled necklace.
8. Black Ruffle Ops Dress by Greedilous

Flattering for:
Athletic figures
Why:
For starters, the asymmetric ruffles add a touch of femininity to the dress, whilst also creating the illusion of curves on the lower half of the design. Furthermore, the higher hemline allows you to flaunt your toned gams, which is another win in our book.