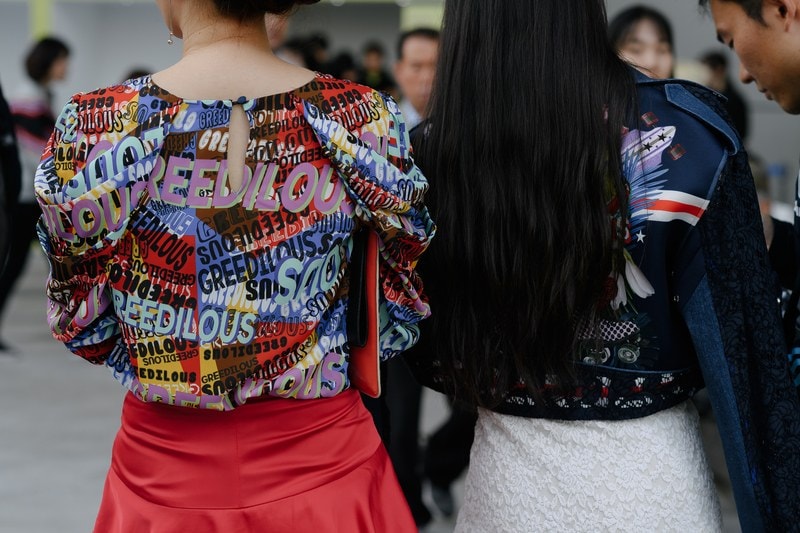 Seoul Fashion Week has finally come to an end. SocietyA is home to over 12 Korean designer brands like LIE, Tibaeg, VLEEDA and our latest brand: Bourie. We're always on the look out for more Asian designers to be on our platform and be accessed to a global audience.
We speak with Lily Hamid (General Manager) and Rochelle Balista (Merchandiser) who attended the week's line-up of shows and collection presentations.
How was the overall experience of the Seoul Fashion Week?
Lily: It's always wonderful attending Seoul Fashion Week because the atmosphere is abuzz. Korean designers make up the largest group under the brands that we carry at SocietyA, so that makes our schedule so packed as well.
Rochelle: It was crazy! We had to squeeze in a total of 15 meetings in a few days! And that was excluding the fashion shows. But attending SFW as a buyer has opened my eyes to an aspect of fashion most people don't get to see and that is fashion as a trade – the journey of clothing from the designer's conception to the retail shops.
What was your #OOTD for the shows? Were there any specific theme in mind when you packed for SFW?
Lily: My favourite look that I wore in Seoul is a vest dress by talented Malaysian designer Cassey Gan. I wanted to represent South East Asian designers in Seoul. Cassey was ecstatic!
Rochelle: Comfort chic! My go-to fashion show uniform is skirt, long-sleeve top, tights and a jacket. As someone not used to cold weather, I made sure to stock up on layering pieces. Comfort is the main consideration as I have to walk around Dongdaemun Plaza to get from one show to another. Good thing I have comfortable shoes from SPUR. I also make sure to wear pieces from SocietyA's Korean designers as much as possible.
SFW seems to be growing bigger, was there anything different that you observed for this year's SFW compared to last year? (Example bigger multi-labels spotted, rise in recognition for Korean designers)
Lily: There has definitely been a shift in the interest towards Korean designers and it's a positive one. We are seeing big retailers like Net-a-porter, Moda Operandi and Galleries Lafayette attend the event recently. That's really exciting that such big fashion players are looking towards Korean designers. Just goes to show that there's so much talent and potential in Asian designers. It would be wonderful if more South East Asian designers are able to hone themselves more and gain the same recognition. This is something I hope more in the coming years.
Rochelle: With buyers and retail shops like SocietyA and our Designer Spotlight series that supports up and coming brands, young fashion designers are gaining more confidence to get their designs out for the world to see. This year, a notable addition to the runway lineup are the young fashion designers. They give a fresh take on trends and have an interesting view of the world of fashion.

Bourie Spring Summer 2020 at Seoul Fashion Week / Photo Credit: Seoul Fashion Week
Why do you think Korean designers are making waves in the fashion scene?
Lily: Seoul is seen as a really booming fashion capital now as their designers are producing collection with a global fashion appeal. With many international markets already adopting Korean and K-pop culture in beauty, music and entertainment, its fashion industry is also slowly gaining exposure in the ranks of international media, retailers and shoppers. At SocietyA we are really lucky to be able to work with such talented Korean designers over the past 11 seasons.
Rochelle: The sudden popularity of K-pop and K-drama positively affected the people's (especially youth's) appreciation towards Korean fashion designers. Asian designers are being celebrated for their talents more and more now. It also helps that the young designers get some much needed support from the Korean government and governing bodies such as Generation Next Seoul, who also organize the designer tradeshow at SFW.
Tell us something about the street styles you've seen at SFW at the DDP.
Lily: People really get into it! And it's not just the invited guests or buyers who are fashionably dressed. Dongdaemun Design Plaza, where Seoul Fashion Week is held every season, is sprawling with fashion students, tourists, models and more, and the fashion looks on display are amazing.
Rochelle: The amazing thing about the street style in Seoul especially during fashion week is that there is many different variations of a trend. You will see a lot of individuality in how the people dress up. There are inspirations from Korean superstars and bands, but with a twist.
Among all the shows attended, which one was the most memorable to you?
Lily: I really enjoyed the LIE show this season. Designer Lee Chung Chung drew inspiration from the matriarchal women divers of Jeju called the Haen-yeo. He incorporated traditional Korean dance and music at the opening of his show. The Haen-yeo are strong, determined women with iron will. He used inspiration from their attire in his styling too, with fishnet embroidery, net goggles/visors and wet-suit inspired garments.
Rochelle: Every designer show adds a different flavour to Seoul Fashion Week and I am always excited to see what the designers come up season after season. This season, LIE had a dancer wearing the traditional Korean diver's gear which was the inspiration for his SS20 pieces. I felt that was a nice touch to the collection.
What is one of the major trend that you've spotted from the shows?
Lily: I see lots of vegan leather, large statement collars and puff sleeves are getting puffier with more Victorian-inspired sleeves in many of the collections I see. Textured fabrics like lace, embroidered jacquard and crochet are being used too.
Any favourite piece from SS20 that you foresee yourself owning?
Rochelle: Too many to mention! This season's fave is a bright pink dress from LIE and a bright yellow skirt from Vleeda. I think this season is a great way to step out of one's fashion comfort zone and try something new.
Aside from runways, there are also showrooms. Tell us more what is a showroom?
Rochelle: A showroom is a space where designers can showcase their collection and entertain customers and buyers. A showroom can be an extension of the brand's identity. For Seoul Fashion Week, a joining designer is given a space to exhibit their designs where buyers can meet with designers and get to know more about the brand.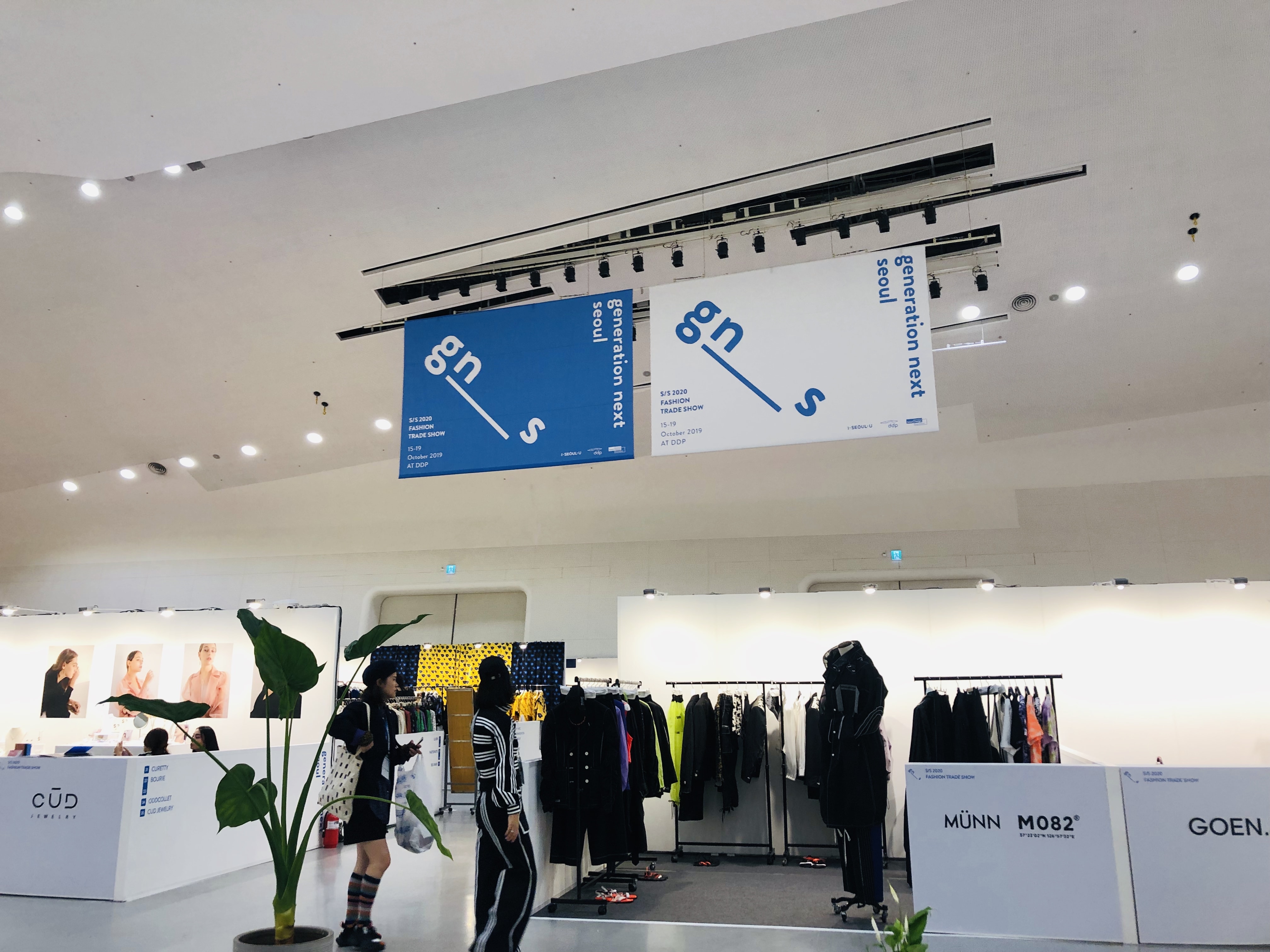 Share with us briefly about your buying process.
Lily: We attend fashion weeks, and also contact a lot of brands we don't meet/see via email. The buying process includes not just reviewing new collections but also studying the performance of sell-through reports from past seasons. This allows us to buy into a new collection with data that helps us see which size, style, silhouette and colour that our customers like. Aside from that, the new collection is reviewed based on the inspiration behind the looks, and whether it will fit into our store's direction for the new season. At the end of the day, the collection must be able to sell.
Rochelle: A common misconception is that fashion week is only about the fashion shows. That is actually only one aspect of it. A lot of the buying happens behind the scenes during the tradeshow meetings. So it is very important for a buyer to be able to not only spot trends, but also to know the people you are buying for and what you think they will be interested in.
SocietyA is always looking for new designers and labels to work with. What do you look for in a brand?
Lily: Besides suitable style, attractive designs and price, what's important to me is that the brand has strong work ethic, and can potentially be a brand that we stock on a long-term basis. This is good for our customers who want to continue buying the brand season after season.
Rochelle: SocietyA is a big supporter of emerging Asian designers. It is always a joy to see a brands grow as the SocietyA brand grows. When considering a new brand, my main consideration is versatility in pieces and wearability. It also helps if the brand has a stable following but mostly it is the uniqueness in design that makes customers relate to the designer. Now, sustainability is also a growing trend as more and more people are having awareness to care for the environment.
What should the audience expect for the upcoming collections from SocietyA for the following year? Any upcoming trends SocietyA is going to focus on?
Lily: We hope to continually introduce new collections, new designers and from new Asian regions that we've never carried before. It's so exciting working with Asian designers because there's so much undiscovered potential in our region.
Rochelle: This season customers can expect more fashion forward yet wearable. We continuously ask for feedback from online and offline customers and take them into consideration when ordering for the next season. It is important for us to make sure the shop's merchandise corresponds to our customers' needs. Also, since 2020 is our fifth year anniversary, customers can expect more exclusive designs as we collaborate with our long-term design partners.

LIE Spring Summer 2020 at Seoul Fashion Week / Photo Credit: Seoul Fashion Week
Indulge yourself in the creative space of Seoul.
Click to shop Korean Designers now.
Also available at
SocietyA Flagship Store
#03-14A, Takashimaya S.C., Ngee Ann City