And just like that, we're headed right into the Fall/Winter 2020 cycle of the fashion calendar. Where Spring/Summer months tend to wield the usual fare of florals, pastels and frills, we usually get more excited by the FW20 season because of the proliferation of colour, texture and innovative cuts that remind us of the joys of dressing up.
This season didn't disappoint. Designers used every tool in their toolbox to bring to life fabulous creations that will get you inspired to look your best every day. From jewel tones at LIE to sculptural accessories from P by Panache, here's your exclusive preview at the season ahead.
1. When LIE Gets Tough

The '60s in London were a time of youthquake, as evidenced by the sudden appearance of several subcultures, and it's in one of these cultures that designed Chung Chung Lee finds his inspiration from.
Based off the dapper stylings of the Rude Boys – where lanky boys would get dressed up in dapper suits and skinny ties – LIE's FW20 collection explored the duality of masculine tailoring versus feminine silhouettes. Trench coats are deconstructed into dresses and skirts, and utilitarian pockets offer plenty of function to accompany the beautifully tailored jackets. 
Look out for:
Power shoulder blazers that command attention at the office; bright jewel hues; and uniquely deconstructed dresses.
Our choice pick:
A deconstructed dress featuring chalked strips and asymmetric layers – the perfect combination of professional and stylish.
2. MINJUKIM's Heroine Spirit

Recognising the power that women bear, MINJUKIM's FW20 collection – titled "Knight Of Night" – looks to the tale of Joan of Arc to inform her designs. The result? A series of looks that finely balance femininity with strength.
Key to designer Kim Minju work is her love for exploring volume, and she continues that in this collection, with frothy skirts and sublime maxi dresses to prove her point. But despite all the frou frou, she injects her collection with a spunk through the use of bold, gothic colours and embroidered surfaces that almost resemble the carvings on Joan of Arc's armour. 
Look out for:
Asymmetric ruffles; a juxtaposition of soft pastel pinks and peaches, versus stronger hues of forest and navy; easy separates that can all be worn with contemporary pieces you already own.
Our choice pick:
A midi skirt that features an asymmetric green ruffle cascading over bubblegum pink tulle, which we'd wear with a white shirt and pointed flats for work.
Always ready to deliver stunningly innovative jewellery, P by Panache continues to wow us with their newest collection, "Cactus Garden". Painting an image of a cacti-filled landscape for the inspiration, this season's jewellery celebrates the art of shape and sculpture through several motifs.
Inspired by a cactus bud, ridged spheres are lined up to form a modern version of the pearl necklace. Elsewhere, South American elements are reinterpreted into contemporary jewellery, as evidenced in a white hand charm grasping onto a gold hoop.
Look out for:
Shapely accessories that can be worn on their own, or layered together for a different effect.
Our choice pick:
A pair of asymmetric earrings featuring different-shaped white beads on each side that's guaranteed to make your friends envious.
Fans of colour and contemporary cuts need only look to Peggy Hartanto for their fix this season. Inspired by the radiant plumage, shapes and feathers of birds, Hartanto found her inspiration for her collection "Species" in the visually arresting colour combinations of various avian species. Without veering from her signature modernist cuts and mastery of colour, Hartono explores different colour combinations that include soft pinks, juicy yellows, and pastel-coloured plaid patterns.
Look out for:
Asymmetric dresses for day and evening, effortless tailoring and brilliant colours.
Our choice pick:
A classic LBD, updated with a burst of yellow fabric dramatically swishing across the front.
5. PH5 Hits The Slopes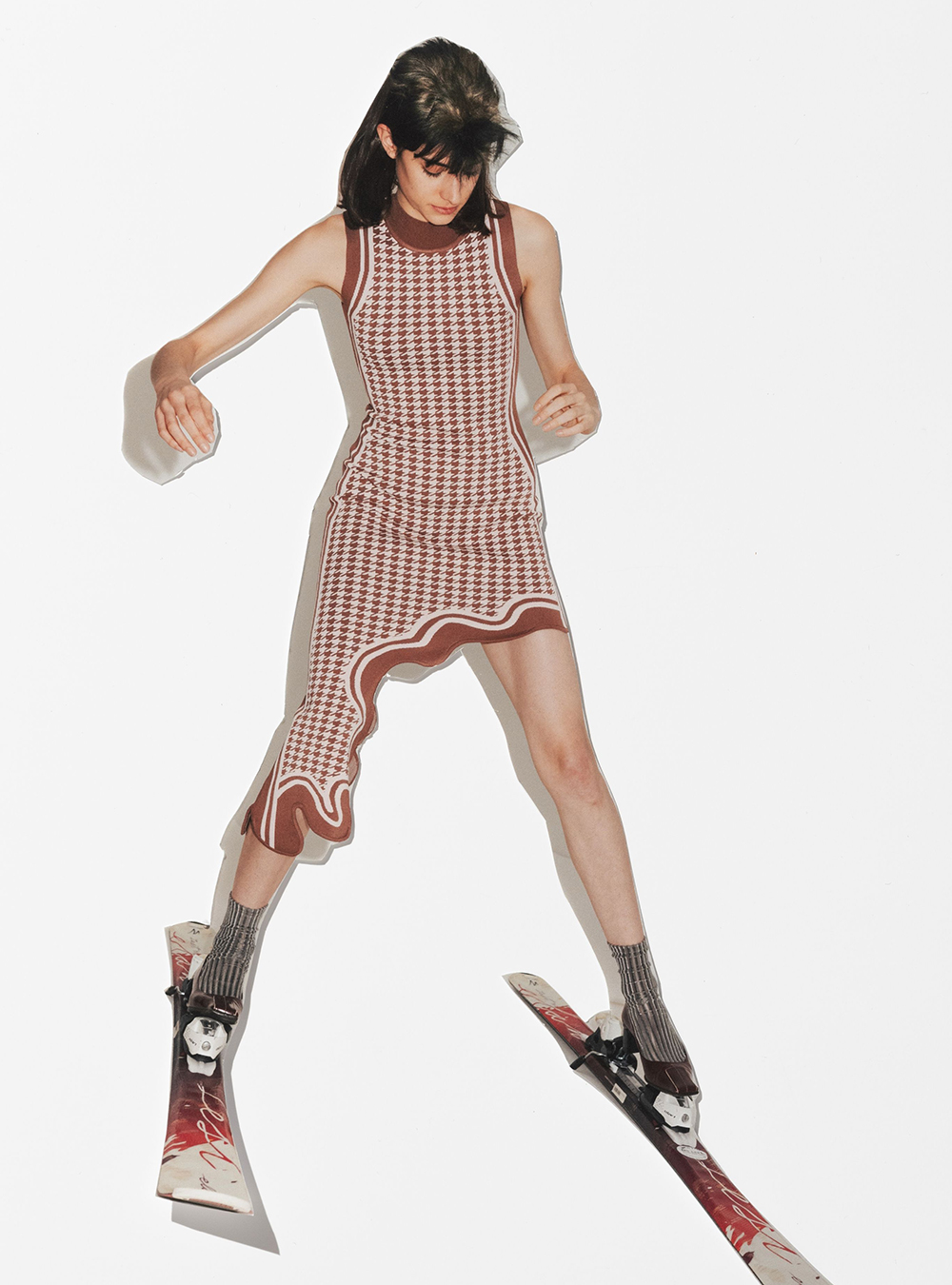 We may not be travelling for our year-end holiday, but that doesn't mean we can't dream of going far away. Specifically, we're dreaming of escaping to the Swiss Alps for a ski trip, thanks to PH5 and their collection named "Slim Chalet".
Influenced by photographer Slim Aarons' work on ski resorts, PH5's usual sporty silhouettes gets an alpine update with plenty of warm jumpsuits, chunky knits and houndstooth patterns. Pieces are still kept wearable when worn on their own – as seen in a terracotta pleated skirt that you can easily match with your denim jacket, or a houndstooth blazer that only requires jeans to complete.
Look out for:
Bold houndstooth patterns; cozy sweaters; autumnal colours of brown, lilac and dusty blue.
Our choice pick:
A statement houndstooth dress that you can slip on underneath a grey blazer for a pop of eye-catching pattern at the workplace.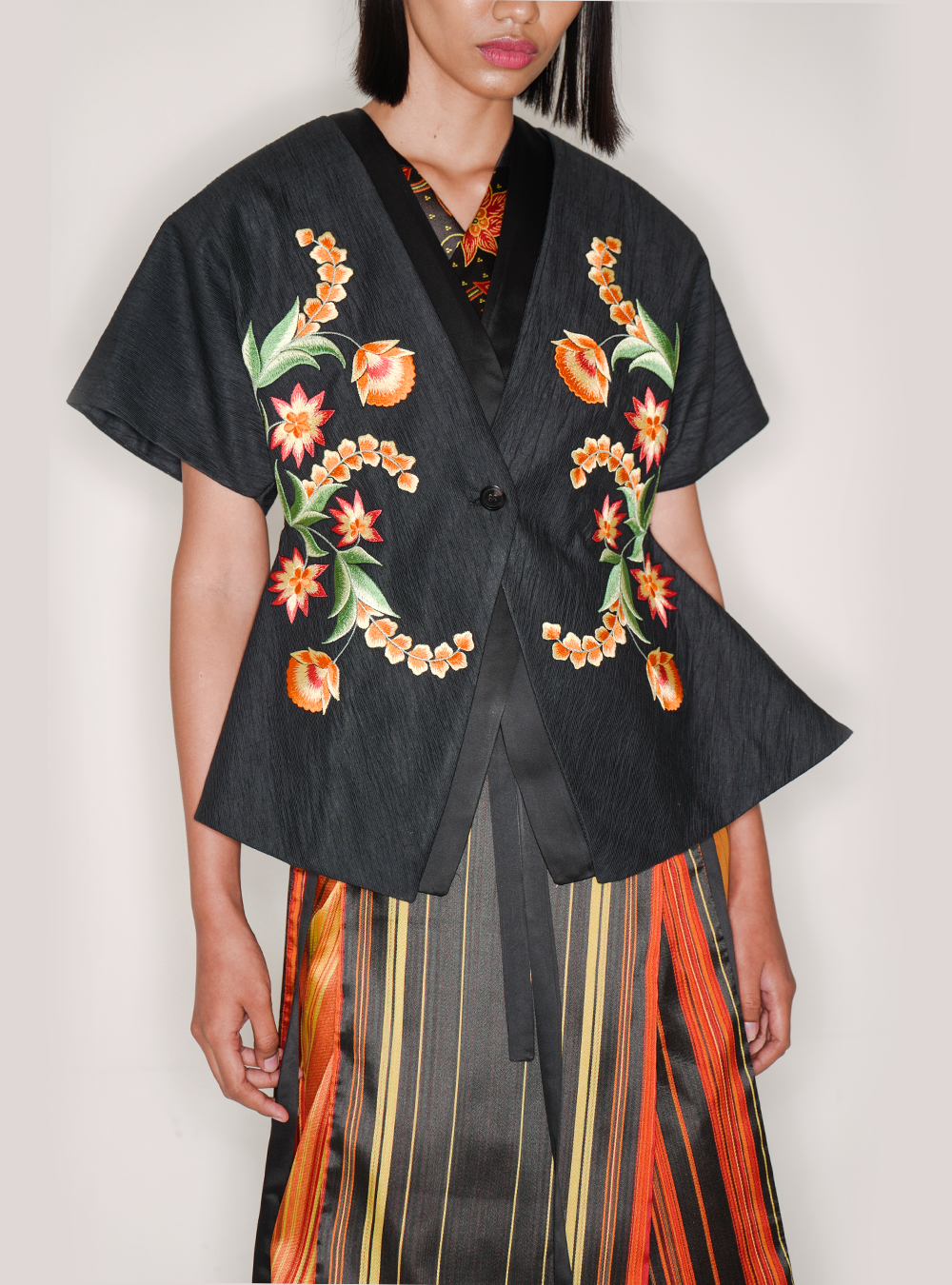 Sean Sheila may be known for their exquisite embroidery work, but what's getting us excited this season is their masterful use of bright colours to offset their beautiful patterns.
Bright streaks of coral marbling swirl around on a navy background are actually hand-painted batik patterns that have been digitally scanned and distorted, before being made into jacquard fabrics. Zesty oranges and yellows intermix with grey stripes for a fun, versatile skirt. Some pieces skip the prints and embroidery, but don't disappoint in the ingenious tailoring methods, as demonstrated perfectly by a wrap-front white shirt worn with wide-legged trousers.
Look out for:
Roomy tailoring that you can move around in; beautiful embroidery details; asymmetric cuts.
Our choice pick:
A kimono-sleeved top that you can always pull double-duty by turning it into a jacket.
7. TIBAEG Turns On The Charm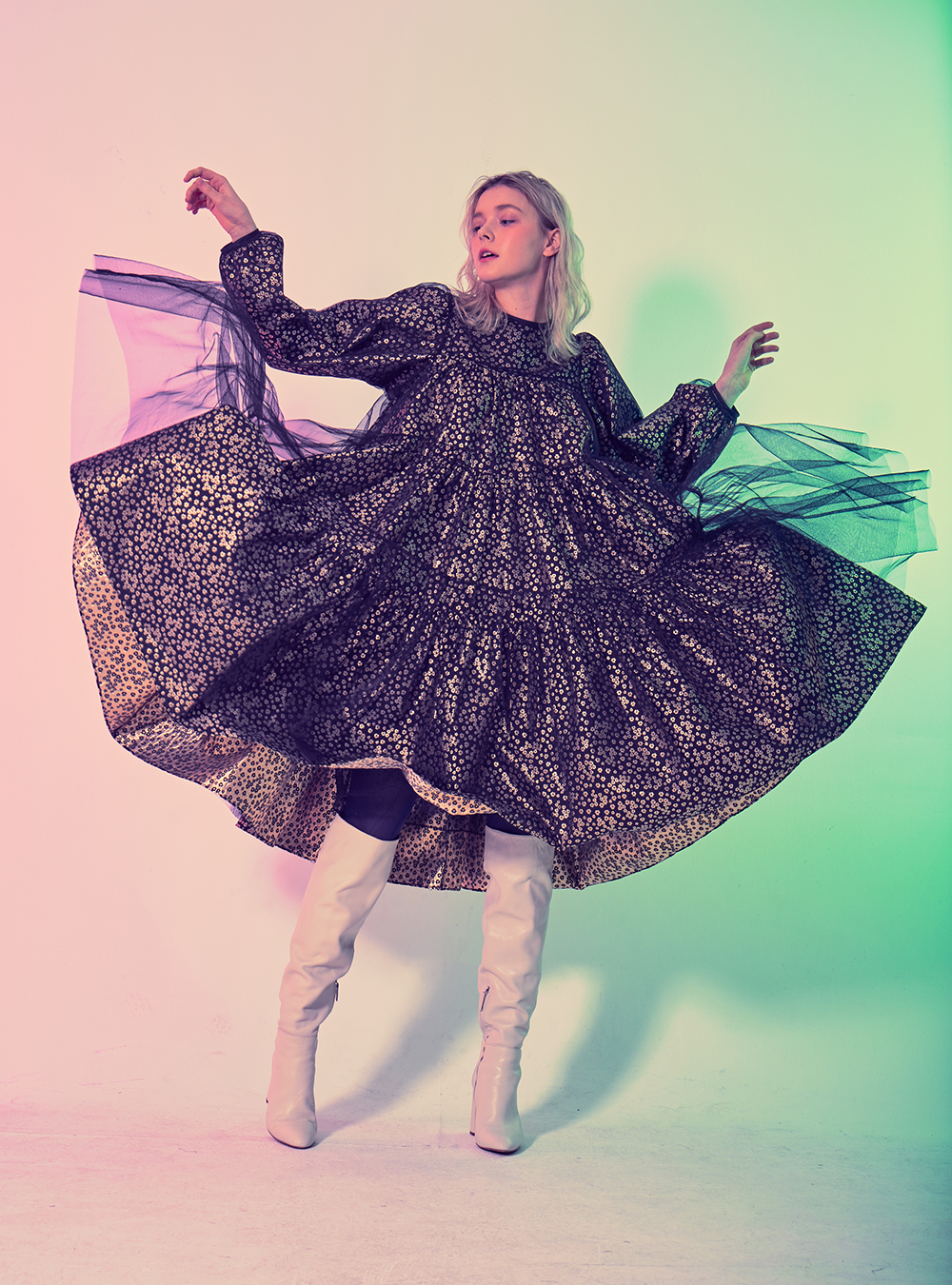 Can women of today still look girlish? According to Tibaeg, the answer is yes! Recognised for their feminine designs, this season continues on that path by turning out charmingly feminine pieces that will have your heart fluttering.
Named "Détremper", which is a French term for melting, mixing and softening, exuberant prints in sky blue, pink and orange lead the way, with plenty of wearable options to follow. Think chic tiered dresses, neatly tailored blazers and oversized coats that feel like you're wearing a warm hug.
Look out for:
Light, sheer layers; smart dresses for work; prim, midi hemlines.
Our choice pick:
This tiered dress that's whimsical, fun and very wearable.
8. TOTON Makes Culture Modern
We can always count on TOTON to take significant and recognisable symbols of Indonesian and reinterpret it in a way that's respectful and fresh for the modern-day woman. For FW20, he doesn't disappoint. His signature scalloped hems make their return across a complete wardrobe of separates, and colours dip into classic tones of latte, white and black, whilst injecting vibrancy with the use of a feminine lilac hue. Humble pieces like a sleeveless cotton shirt also get updated with beautiful embellishment.
Look out for:
Easy-to-wear separates, some pieces that take their inspiration from menswear and elevated tailoring.
Our choice pick:
A lilac-coloured blouse covered with gemstones and pearls – just enough drama for everyday wearing!