As someone who has extremely dry skin, I love using sheet masks regularly. They are packed with skin-nourishing essences and for those 20 to 30 minutes act as an occlusive layer helping the goodness from these essences penetrate the skin better so your skin looks really plump, juicy and glowing after. But with work, a hectic social calendar and other responsibilities, it can be difficult to carve out a whole 30 minutes to sit put with a sheet mask on.
This is why I combine my sheet masking sessions with my favourite
TV shows or guided meditations or even a shower. Below are some masks I have been enjoying recently, and you should definitely consider trying them.
Beigic Luminous Hydrating Sheet Mask, $38
This natural cotton cellulose mask didn't have the best fit for me (I cut it up to improve the fit), but I really enjoyed the hydrating benefits of the watery gel-like essence that comes with it. The mask feels like an extremely thin cotton sheet and is drenched in a mixture of green coffee bean oil, 7 Peptide complex, vitamin C and sea buckthorn, marigold flower and yuzu extracts.
After leaving it on for 15 minutes, skin feels hydrated and nourished. I used this mask as part of my PM routine, after my serums, including the retinol one, and once I was done with my face, I placed it on my neck and chest and let those areas soak in the goodness. When I woke up the next morning, my skin was soft and plump.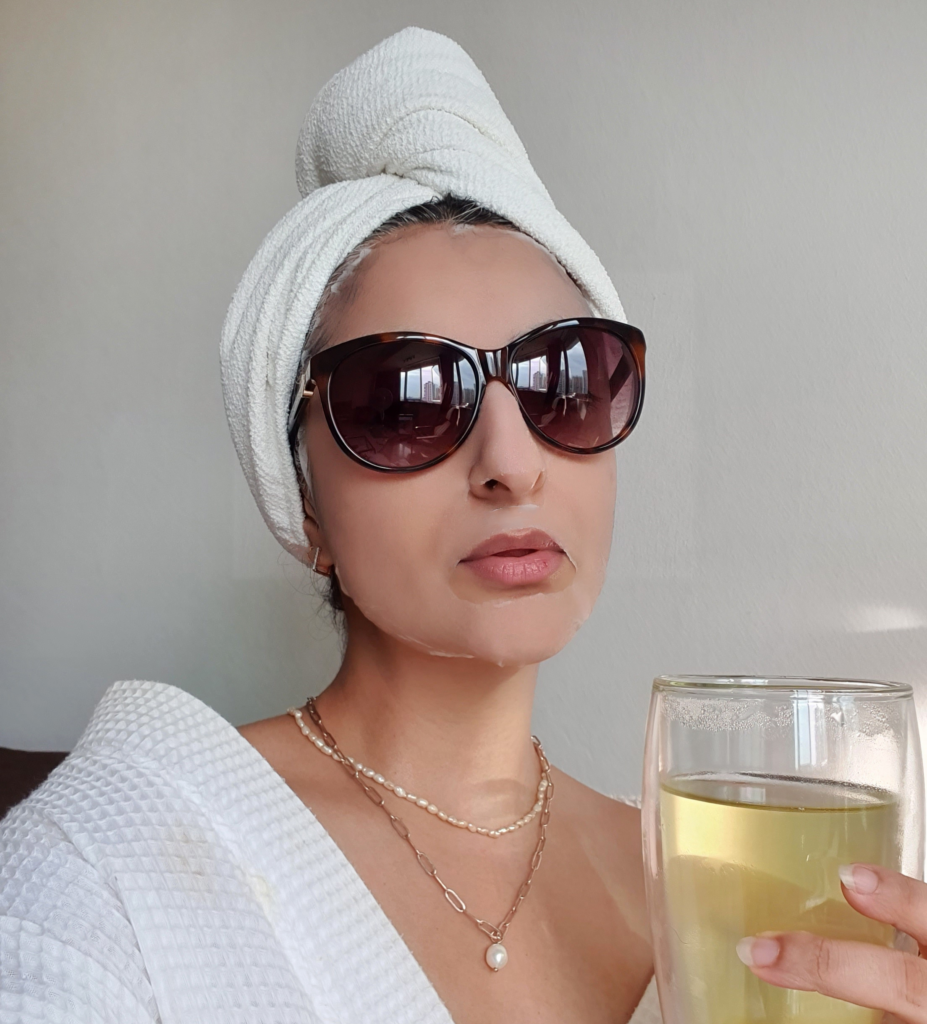 SIGI Skin Tea-Tox, $39
I find myself reaching for this mask when I've been outdoors for an extended period of time or when I've gone overboard with the actives in my skincare routine. The microfibre mask cocoons the face and soothes it with a cocktail of 20 per cent probiotics, cold pressed yuzu extract, kombucha and sake extract which immediately help to soothe and hydrate skin. It feels even more shiok when I've chilled it in the fridge for a few minutes before I put it on. There is an extremely generous amount of essence in the sachet—27ml, so I massage that into my neck and chest and there's even some left over for my arms and legs.
Grail Do It All Mask, $42
These masks are made of regenerated nano filament material and are biodegradable. They are the thinnest of the three and each mask is soaked in a skin-nourishing mixture of Japanese sea green caviar, icelandic chamomile, copper tripeptide but not to the point that it starts slipping and sliding off your face. They really adhere to the face so you're able to get up and move around… even take a shower using a handheld showerhead. These are bit on the lighter side in terms of hydration, so they would work well for those who have normal, oily or combination skin types.
About
Smita DeSouza is a beauty industry insider with over 10 years of experience in beauty journalism. In her late 30s, she welcomes the wisdom, confidence and resilience that age brings, but not the pigmentation and loss of collagen. Follow her skincare rituals here.